Looking to a new pair of Bluetooth wireless earbuds on a budget? This Boltune BT-BH024 wireless earbuds review could actually come in handy.
In a time where the market is saturated with insanely overpriced earbuds from big players ranging from $150 upwards, seemingly making entry-level earbuds look like a joke, yes those are premium gadgets but the Boltune BT-BH024 wireless earbuds retail at $59.99 with a $10 coupon that brings the total down to $49.99 excluding tax, with features like Bluetooth 5.0, dual microphones, In-ear detection tech and so much more.
To give you some quick context, we've reviewed quite the number of earbuds on DroidRant.com including the fairly popular TWS earbuds budget king: Treblab xFit earbuds, we even actually have a closely monitored list of the best noise-canceling Bluetooth earbuds under $50, a lot to offer in this review.
Is the Boltune BT-BH024 wireless earbuds worth buying? Let's get to it.
Read this: Best Budget Phones For COD Mobile And PUBG Under $300
Boltune BT-BH024 Earbuds Design And Build
One of the things that matter when it comes to wireless earbuds is not just the design and build of the earbuds themselves but the charging case, one of the problems we had with the Treblab xfit, great earbuds, compact casing too but the boxy design makes it hard to pocket.
The Boltune BT-BH024 wireless earbuds weigh only 51 grams and the casing design makes pocketing it very easy. It's this rectangular box design with a nice clothing fabric and the brand name at the very top. Nice.
Another sweet addition that makes the build even more up to standard and great for a budget earbuds is the type-C charging port making it more durable where others usee the regular USB 2.0. The case is also minimal in design. Looking at it, you see everything:
One charging port
A reset button
And one LED notification light (That just has one light pattern, downer)
About waterproofing, the earbuds have an IPX8 rating and can withstand some hit actually. This rating protects the earbuds from sweats while working out, splashes of water, even rain, nothing too advance but should hold up in case you need it to go the extra mile. We haven't tested this actually.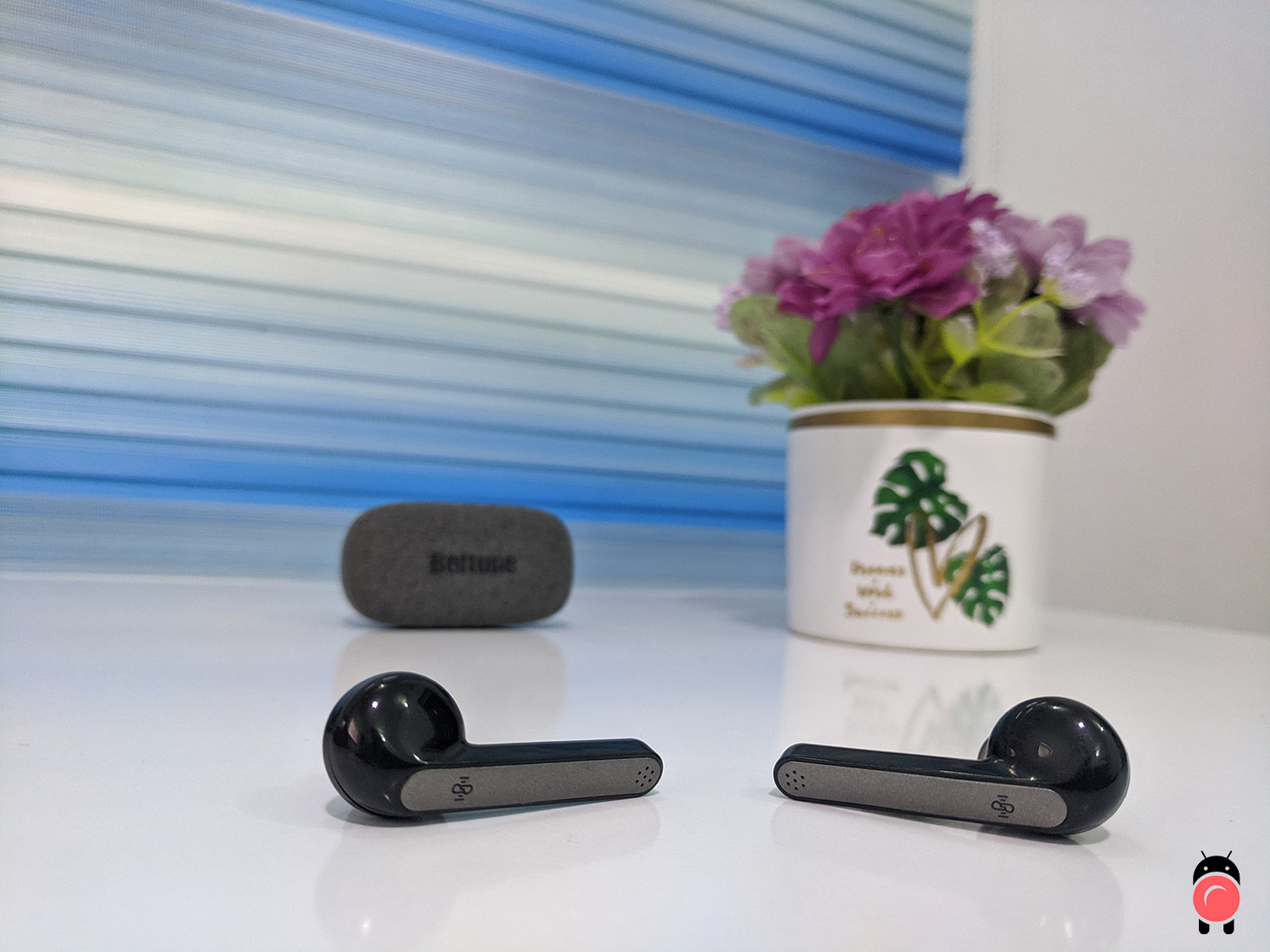 Still, on the build and design, the earbuds themselves have touch control which means they have no button at all, you touch the uppermost part of the earbuds while they're in use to adjust settings like volume, next or previous song, even to wake up your phone's personal assistant. On the Boltune earbuds, you can:
Double-tap to go to the next or previous song.
Long-press for 2 seconds to increase or decrease volume.
Long-press for longer to wake up assistant.
And more gestures.
It's cool to be able to touch a part of your earbuds to control it, no buttons required, having to press something while in-ears could trigger some discomfort as you'd have to push in further.
Boltune BT-BH024 Earbuds Comfort And Fit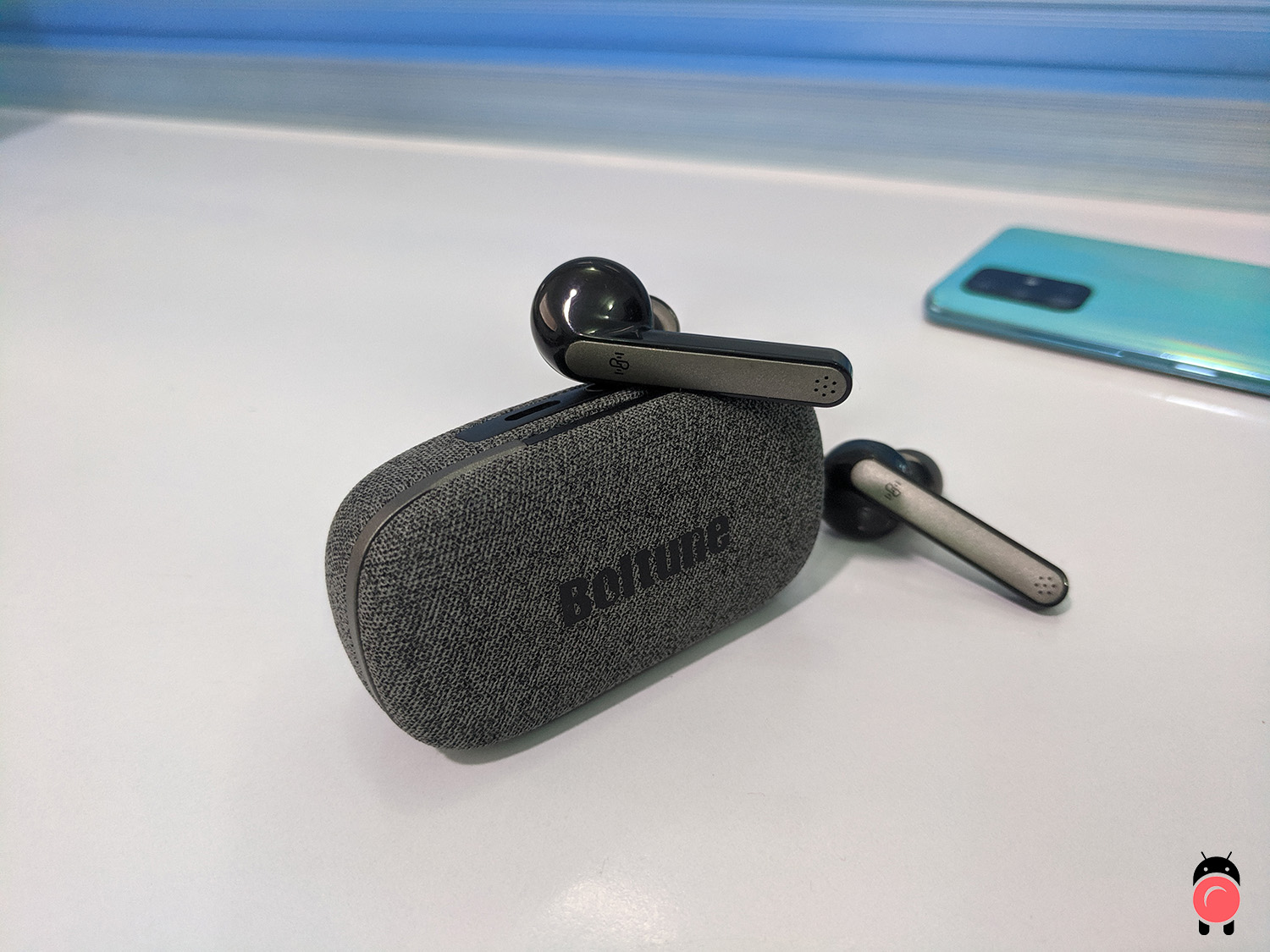 When you go for budget earbuds, one of the things you forfeit is the futuristic, compact design associated with premium earbuds and while the Boltune earbuds are quite okay design-wise they're still a little too big and could be smaller to fit nicely into the ears.
The earbuds are designed for each pair of ears, the right for the right ears, the left for the left ears, this alone makes comfortability up more than 50% and the earbuds actually sit right in the ears plus it doesn't matter the size of your eardrums, the earbuds come packaged with extra pair of tips for small, medium and large eardrums so you're covered in that aspect.
While these fit into your ears nicely and comes in cool greyish colors, they're quite big and are easily notable on your ears but as far as comfort and fit go, they're quite okay.
Boltune BT-BH024 Earbuds Sound Quality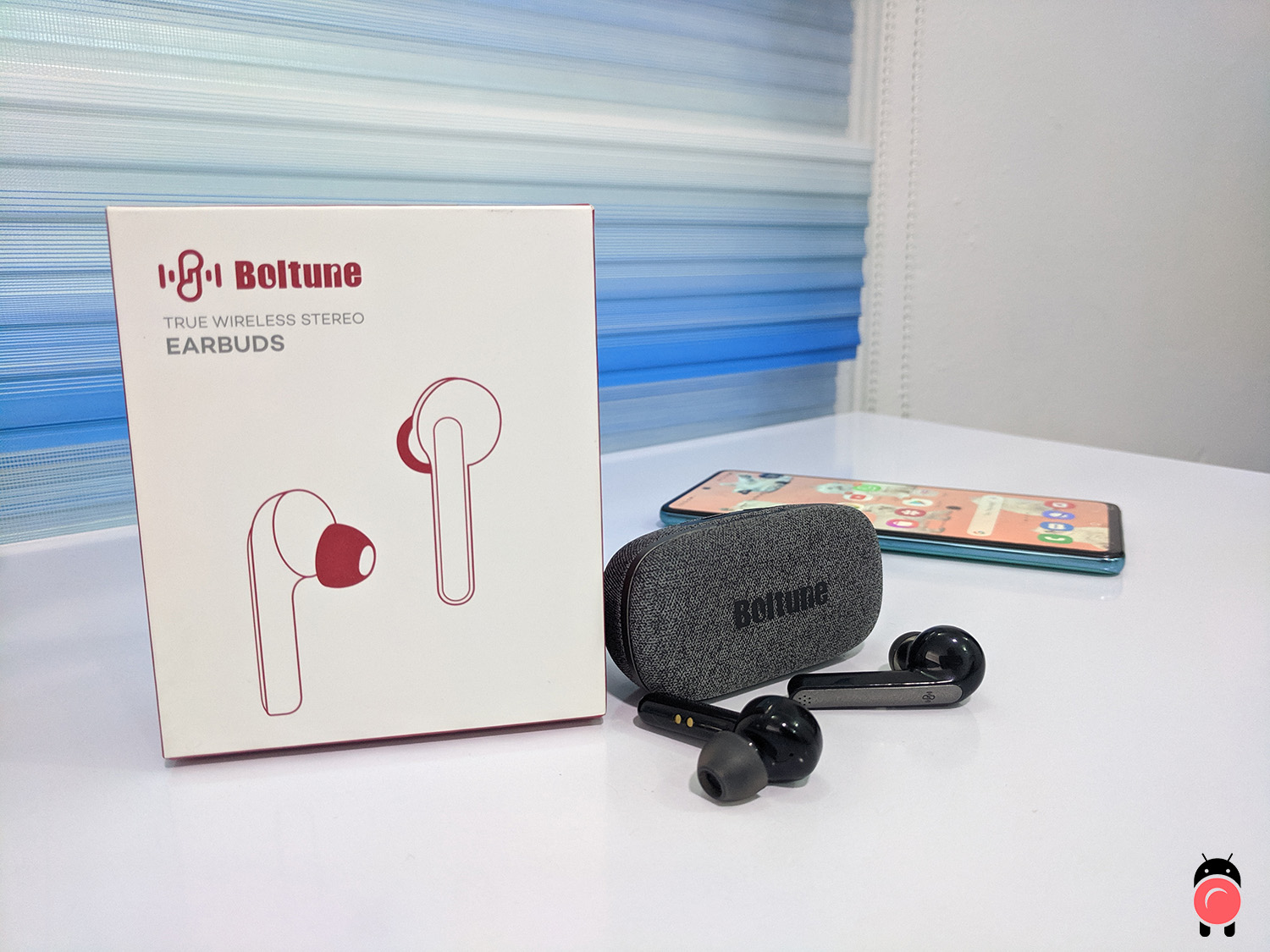 One of the most anticipated sections of this review, as far as sounds go on this device, for the price tag, its gooooood.
The Boltune earbuds utilize AptX deep bass features alongside CVC 8.0 noise reduction to create great sounds and the bass really does come alive on this one and while it's not the loudest out there, it's quite okay.
You can't expert premium level sounds from a $50 earbuds, it's not noise canceling but the reduction definitely works and you can actually hear up to 92% of everything that's playing. In addition to this, the two mics integrated into the earbuds make them super easy to make calls with. The sounds are again, not the best but work just fine.
They're the perfect balance between two ears and offer amazing sound quality.
Boltune BT-BH024 Earbuds Battery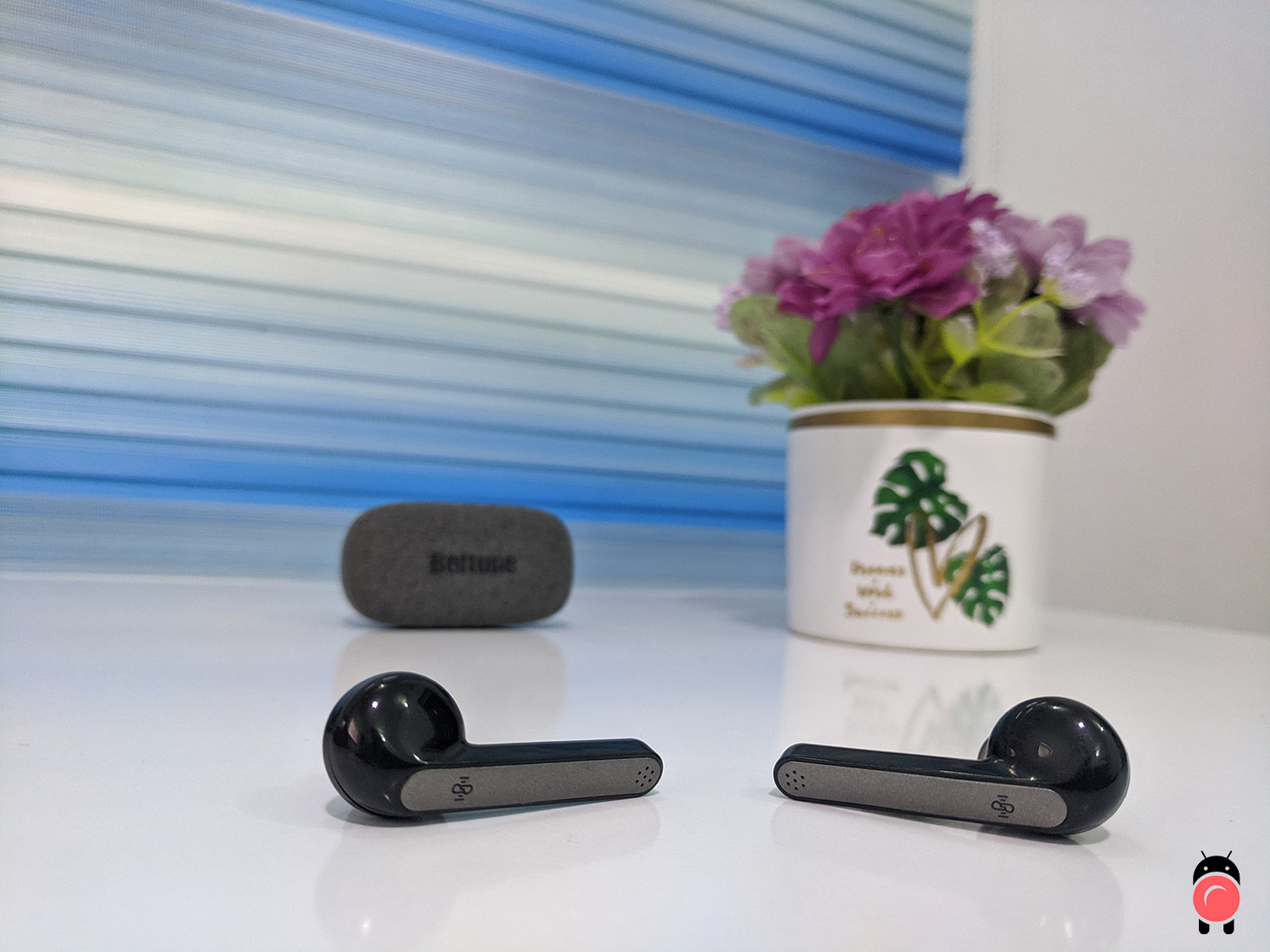 The battery on this one is quite impressive.
I somehow have not been able to get it to give me the battery use in all the one-month usage and testing, that's not to say that it's definitely the best, I've simply not pushed it past 2 hours of music time. According to the manufacturers, the device can offer up to 42 hours from its charging case and can go 7 hours on a single full charge.
If you want something to use for a long time, this is definitely an option to consider, 10 minutes quick charge could fetch you an hour of music playtime.
Boltune BT-BH024 Earbuds Connectivity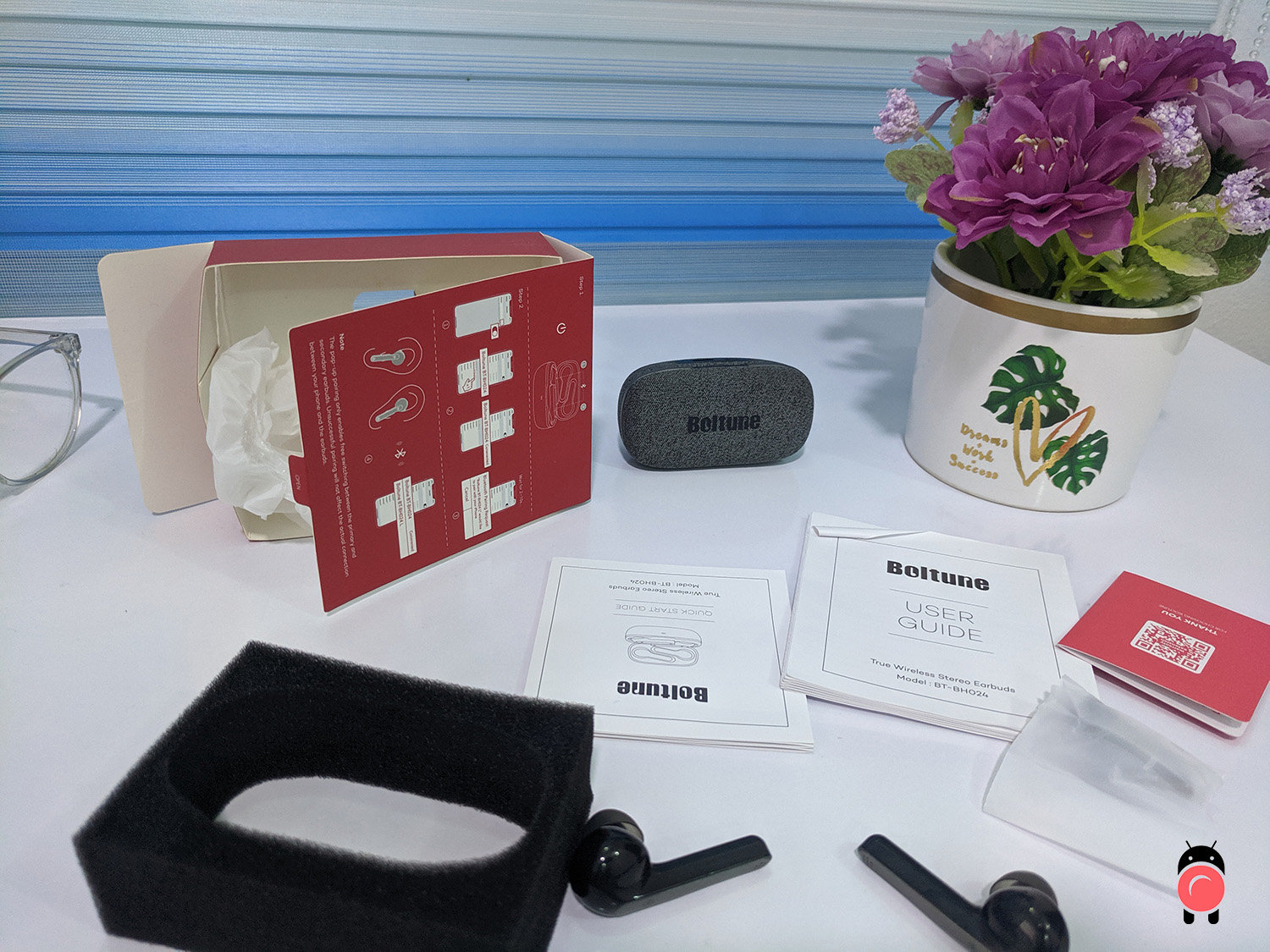 The earbuds come equipped with Bluetooth 5.0 which makes connecting to anything that has Bluetooth a walk in the park.
It pairs easily with my Samsung Galaxy A51 and HP laptop, I've also been able to connect it with other devices and it works seamlessly. To connect with other devices, simply pop out the earbuds from the case and scan for the Bluetooth name "Boltune BT-BH024", connect to both but only one will be active and syncs to the other device.
Full instructions are with on the pack but it doesn't matter if you use an iOS device or Android, you'll be able to use the Boltune wireless earbuds.
Boltune BT-BH024 Earbuds Wrapping it up
The earbuds are a nice piece of hardware and you can't go wrong with its price point.
The active noise cancellation, battery life, quick charge feature, and over the design of this device are definitely above average and we recommend especially if you're looking for something ultra-simple, looks like apple AirPods and on a budget.