Everyone was quite excited when Apple launched Memoji for iOS alongside the 2018 iPhone X and that gave iPhone users the opportunity to customize stickers to model their faces with different emojis and reactions.
It was really exciting and has gotten better and improved since launched, but what about Memoji for Android users? Well, Android smartphone manufacturers did try to come up with a replica like Samsung's AR stickers that are available mostly on its flagship devices.
But what about mid-range Android phone users who want something like that too? That's why we've written this simple tutorial to help you use Memoji on Android phones easily.
How to use Memoji on Android Devices
Memoji is an iOS/Apple thing hence you can't officially get it on Android devices unless Apple decides to make an Android compatible version in the future or a developer or smartphone maker decides to make one that functions exactly like Memoji but in the meantime, we've found a few free methods to get yourself some memoji action on your Android device.
1. Use The Bitmoji App
The bitmoji app is one of the best and closest options Android phone users have to create realistic memoji on Android and might even be the best option to go with, apart from the fact that it is one of the best emoji apps for Android, it is also very easy to use.
You can download Bitmoji free on the Google play store to begin and sign up with your email. As it is with normal memoji for iOS, you can either take a selfie to make a super realistic memoji or start building yours from scratch.
Bitmoji is super easy to use and you can create unlimited memoji from your Android device using this one simple app.
2. Use Samsung AR Zone
They're just as good and work well with major chat apps so if Memoji for Android WhatsApp is your main concern, this may be what you're looking for.
You should know, while Samsung AR stickers aren't available on all Android phones, you'll need a Samsung device running One U.I on Android 9.0 and above, most new devices like Samsung Galaxy A51, Samsung Galaxy S20 already are running on this version so you're good to go.
If you own an older device, you may just need to update your Android OS or use some of the options below to get yourself Memoji on WhatsApp.
To get started with using the Samsung AR zone to make Memoji like stickers, Open your camera app and slide onto More >> Then tap AR Zone as seen below.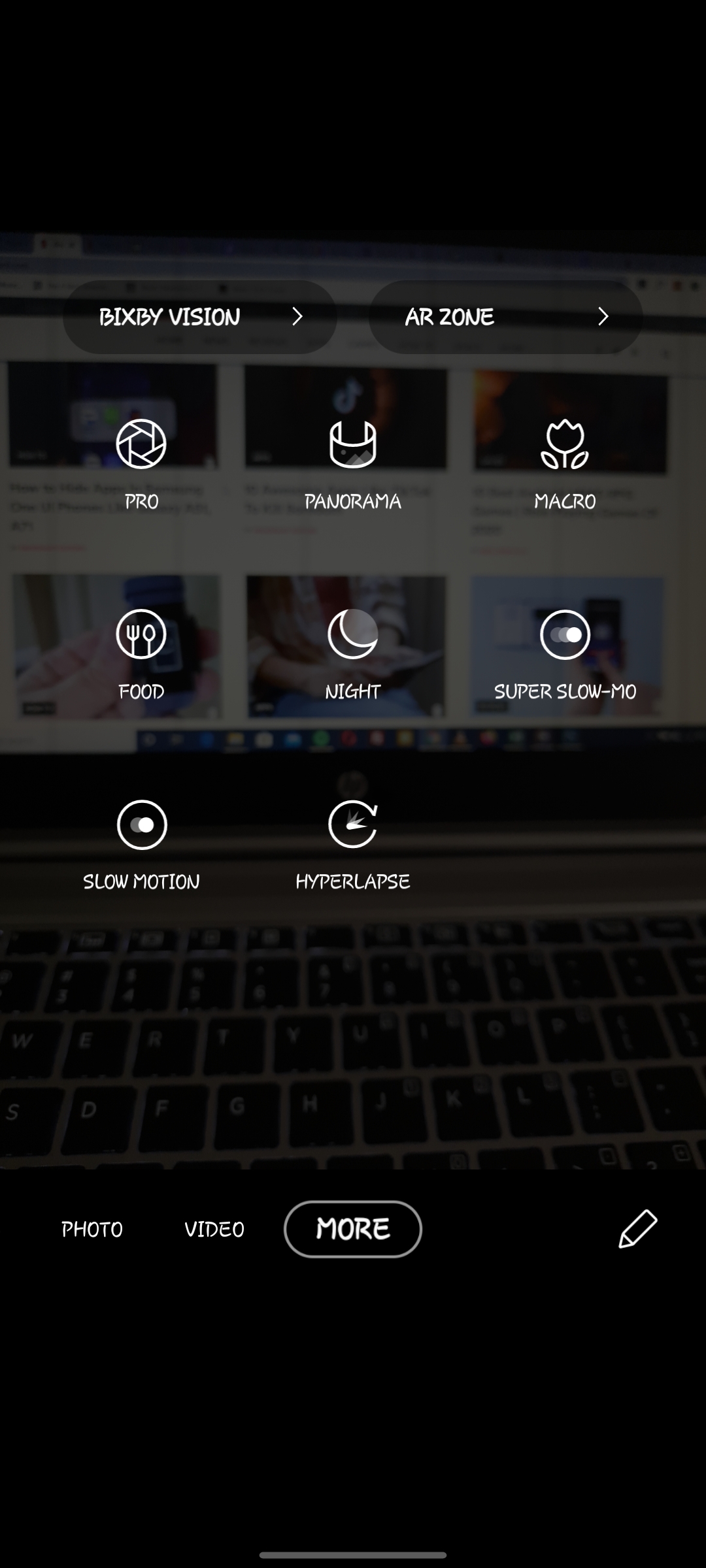 Here you have multiple options like:
AR Emoji Camera >> Similar to Memoji, use this if you want to create a picture or video of yourself touched with Samsung's Augmented Reality software.
AR Doodle
AR Emoji Studio
AR Emoji Stickers >> For when you want to create those Emojis for platforms like WhatsApp.
Deco Pic >> For Snapchat like filters and more.
For this tutorial, we'll stick with the AR EMOJI stickers that we can share on WhatsApp.
I selected that option and as you can see, you can design everything from clothes to the skin color, I just left this basic.
And when I went to WhatsApp with my Samsung keyboard in use, it's there. Samsung AR stickers aren't automatically added to WhatsApp like others.
To Access Samsung AR stickers, you'll need to be using Samsung keyboard, Tap on the stickers icon beside the emoji icon and you'll see a new slot for your new stickers among the icons, tap on that and you'll see your new AR stickers ready for use, like below.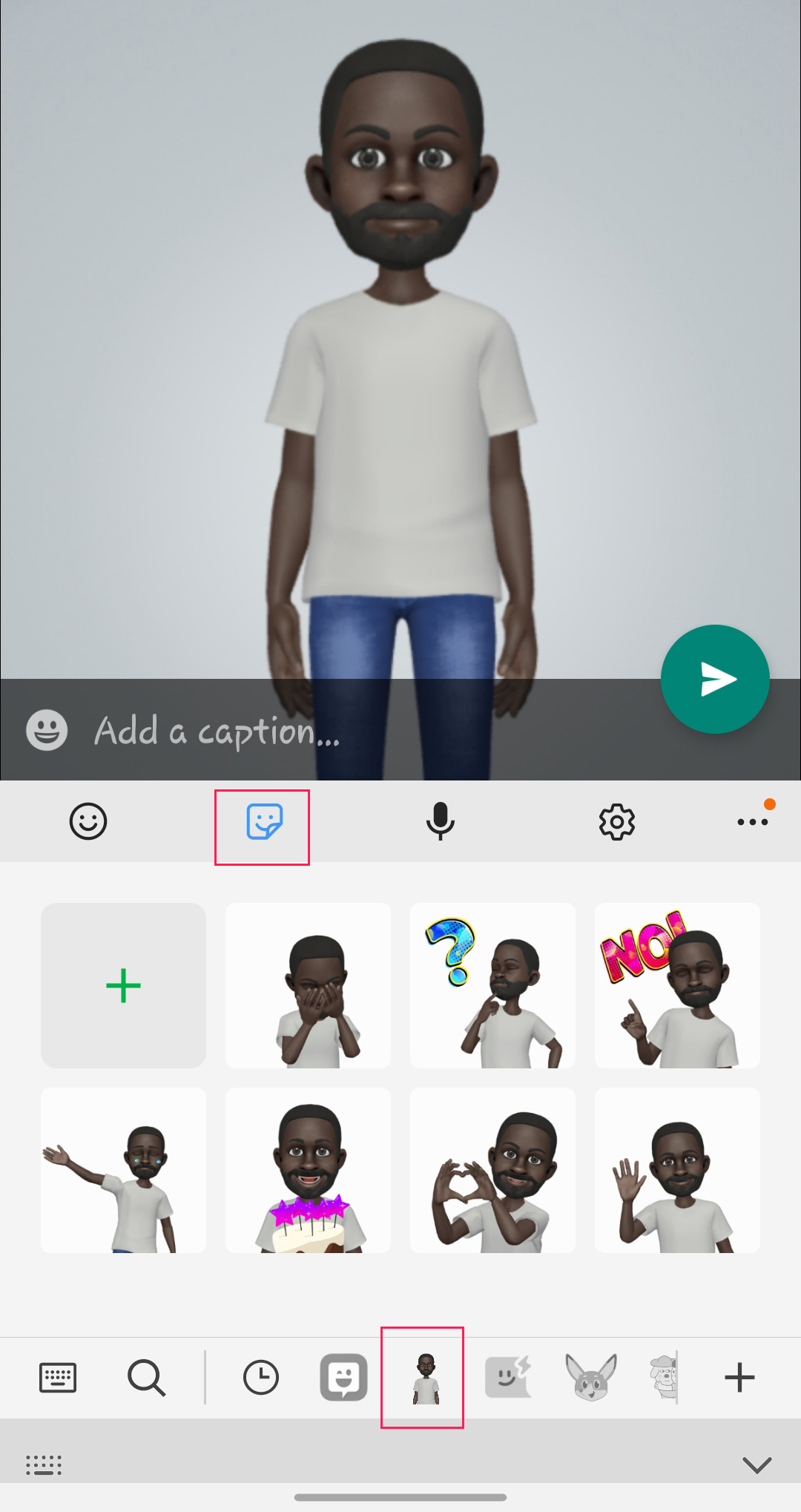 3. Use a preloaded app to add Memojis to WhatsApp
This is one shortcut you can use to get Memoji for Android right now.
On the Google Playstore, you'll find a ton of free apps you can use to add memoji stickers to WhatsApp with just a few clicks of a button. Here are some free memoji apps for Android you can download and install for free now:
Those three not enough for you? Here's a list of all the apps on the PlayStore answering to the search on Memoji.
How to Install and use Memoji apps for Android
Like you do every app on your Android device, download the app full of memoji stickers you prefer from the list above and install it.
Upon opening the app, you'll see the available memoji stickers, just tap and apply to WhatsApp like below:
Once you've added to WhatsApp, you'll now be able to use those Memoji stickers on WhatsApp with any of your contacts without breaking a sweat, just access your stickers options and you'll see the new Memoji stickers you added to favorites.
But this isn't the only way to get Memoji for Android, there's something else you can try.
4. Ask a friend or family using an iPhone to create your own Memoji
One of the most liked things about Memoji is the fact that you get to make them in your own image hence the Me-moji, with the options above, the memojis are not really you but if you don't have an iPhone you can talk to a friend who has to make some for you.
All they need is a picture of you and the reactions you want, then they can create something especially for your face.
They can send it back to you on WhatsApp where you can save them as favorites to have them stick around for as long as you want.
In Conclusion
Memoji is an iPhone/iOS thing for now at least till an Android smartphone maker rises up to the task and creates a worthy version for Android so you can't essentially use Memoji on Android officially but with these mentioned above hacks, you can.
We'll keep this page updated as soon as we have more reliable ways to use Memoji on Android.
In the meantime, upgrade your emoji and sticker games with these guides:
Also read: 10 Awesome Apps Like TikTok To Kill Boredom