If you're looking for amazing apps like TikTok where you can share and view videos from your favorite creators, you've come to the right place.
Undoubtedly, TikTok has the highest share of users of video creation and sharing platform in the world. But, given the fact that it's a Chinese-owned app, the company's controversial image coupled with the boycott of Chinese products and services, these factors have made people over the world seek alternatives to TikTok. There are several other apps for creating and sharing bite-sized videos.
While some of these are Chinese own as well, they've not had the kind of scandals Tiktok has had recently, anyway, fingers crossed, we're here to have fun anyway.
Popular: 11 Best Free Video Editing Apps For Android
Tiktok Alternatives: 10 video sharing apps like Tiktok to create and follow your favorite creators
So, the question is: Which alternative apps like TikTok should you download and install on your smartphone? We made a comprehensive list of the 10 best apps like TikTok. Go over them to pick your favorite TikTok alternative app to stick with.
1. Zynn
Zynn is a relatively new TikTok alternative app that offers the same premium features. It's an exact clone of the TikTok app. But, it comes with a twist – you earn money for watching videos. Yes. You read that right. The company offers you more money to refer its app to friends and family. You'll need a PayPal account to withdraw your funds.
Get Zynn for iOS.
2. Likee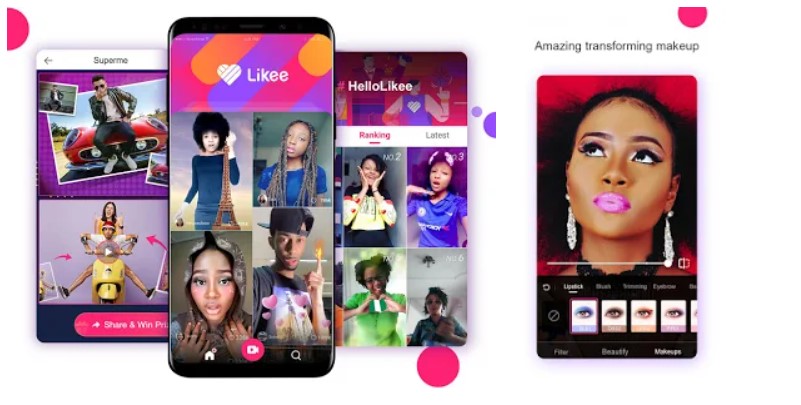 Likee is next on our list of awesome apps like TikTok to kill boredom. This app allows you to create and share short cute and funny videos. You can also edit the short video clips to create a longer video. To make your video more appealing, you can add stickers and filters. There are several cool features you can use to create videos that thrill your followers.
3. Lomotif
Another TikTok alternative app you can use to create videos that get shared is Lomotif. It has a huge library of music you can add to your videos. There are several memes, emojis, emoticons, stickers, and beauty filters you can use to edit and customize your videos. It a free app that's available on the Google PlayStore and iOS store.
Get Lomotif for Android / iOS.
4. Funimate
Funimate is a good TikTok alternative app that lets you sing along to your favorite music, create dramatic dialogues and funny videos. You have an array of editing tools and features like emojis, beauty filters, stickers, etc. The app has a simple and beautiful user interface and it is pretty much easy to use, even for a first time user.
Get Funimate for Android / iOS.
5. Dubsmash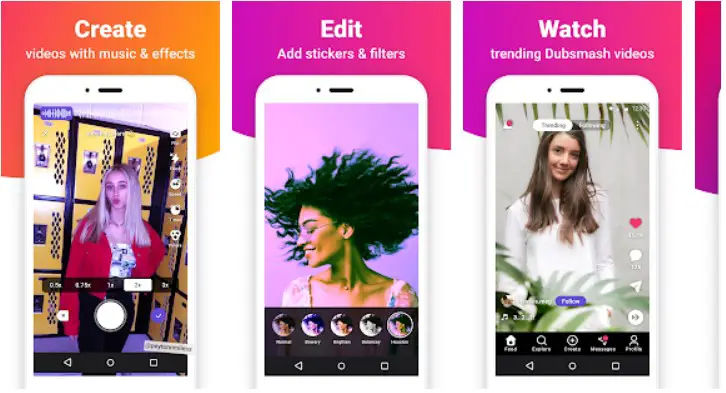 Dubsmash provides users with features that allow you to lipsync to your favorite songs, movies, and other funny dialogues. Like TikTok, it has emojis, beauty filters, stickers, and emoticons which you can use to create shareable videos with your followers. The app has two sections – where you can see what your friends are up to and where you get up-to-date video trends.
Get Dubmash for Android / iOS.
6. Firework
Firework functions just like TikTok. You create exciting videos and share them to gain more followers. The app has different categories such as sports, travel, funny jokes, beauty, etc. There are contests and weekly challenges you can partake in to win prizes. Creating good content regularly on Firework platform will increase your chances of clinching the weekly cash prize. Just follow the trend in your favorite niche and create better videos than other users.
Get Firework for Android / iOS.
7. MuStar
If you're also boycotting Chinese apps, then MuStar is a great alternative to TikTok. You have access to a huge database of top songs from your favorite artists. You can create interesting videos and participate in lip-sync show-down with other MuStar users. Video editing tools like beauty filters, stickers, emojis, etc help you create good content.
8. Vigo Video
Vigo Video is next on our list of awesome apps like TikTok to kill boredom. You can't go wrong if you download this app on your smartphone. You can create 15 seconds of videos to showcase your skills and talents. Due to the short time allotted for creating videos, your best bet to getting good comments, likes, and shares is to create the best content. Even more, you can win some much prize money for your viral content.
Get Vigo Video on Android / iOS
9. Triller
Triller is an easy-to-use video editing app that supports auto-editing. With just a click on a button, you can change an ordinary video to a sensational video that could increase your followers in a short time. The app runs on a unique algorithm that chooses the best filters, songs, and other tools to help you create videos. True to the brand's social moniker "You do you, Triller does the rest.", you've got nothing to worry about when editing your videos.
10. Kwai
Kwai is a good alternative to TikTok which helps you to create videos and share with your friends on social media platforms. The app has a number of tools to edit your videos. Kwai has many categories you can select from to create sensational videos. The app has a reward system that lets you win prizes based on your followers.
In addition to this list of video sharing apps, you already know YouTube as the king in this space, you can share videos on Vimeo, YouTube's direct competition and depends on your video type and dimension can go on virtually other platforms like Facebook, Instagram, Pinterest, even LinkedIn.
We hope this list of video sharing apps have been helpful, if you're looking for something a bit more specific and is not on this list, please leave a comment below so we can determine the best platform for you based on what's important to you.