Being able to change the look and feel of your mobile device interface has been a privilege most Android phone users can't get enough of. Though custom ROMs were the first to be used in changing the interface of Android phones, Launchers have taken over.
Launchers unlike custom ROMs are easy to get, easy to install, easy to manipulate, and have no permanency.
But not all launchers are very efficient to use. Launchers with a lot of features are likely to consume more power from your phone, resulting in excessive battery drain and sometimes overheating. This can be very frustrating because everybody wants to use their mobile device to its full potential and at the same time having less worry about battery life.
What Are The Best Android Launcher For Battery Life?
Having this in mind, we made a list of launchers that not only do they not drain battery power but are able to save battery power. All launchers mentioned below are available for free on the Google Play Store.
1. ap15 Launcher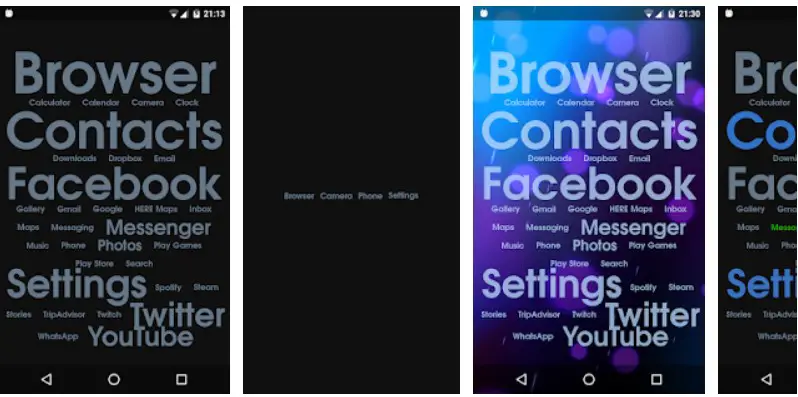 Being the lightest of all, the ap15 Launcher takes your Android experience to a whole new level with its straightforward approach. Instead of typical app icons, what you get is variably sized app names on a scrollable home screen. Yes, there's no app drawer here. The launcher also has the feature of saving battery power, by setting it to change the background to black. it can only be done after you have set the launcher as your default launcher, which shouldn't be a problem for most Android users.
There are also loads of customization features, including the ability to change text color, background color, label size, and font. And you can even specify custom rules on how apps are displayed, available in the Pro version.
2. Evie Launcher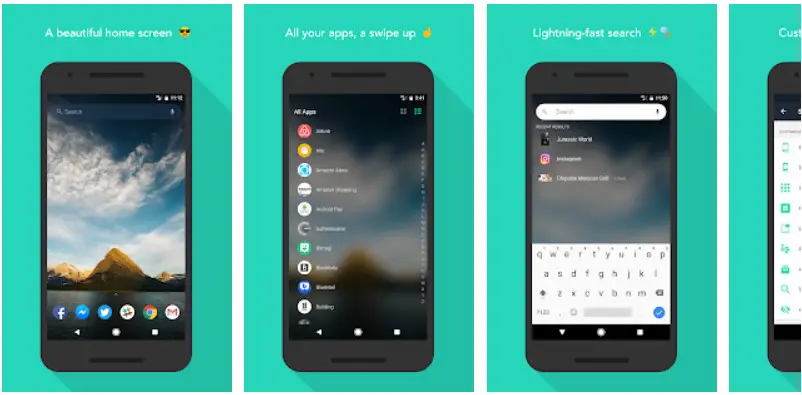 Where there are many launchers that offer a slew of customizations, there are also those which look to offer a simpler overall experience. Evie Launcher is one such option, it is a launcher that not only runs on minimal resources but also makes your phone faster and easier to use with its simple interface. Which is helpful to improve battery life. All your apps can be accessed with a simple swipe, and you can search for anything right through the home screen.
It has a powerful universal search function, and also offers some deeper tweaks for those willing to invest the time. And then, there's an option to hide apps for people who want complete privacy over the apps they use.
3. Nova Launcher
Nova launcher has been favorite for all for a while now, and that's mainly because it offers a perfect balance of features and performance. It has now been updated with a night mode feature that blacks out the search bar, app drawer, drawer icon, and folders, which is not only good for your eyes at night time but also helps reduce the screen battery consumption for phones with OLED panels.
Amongst other features, Nova offers a pixel-like interface with the ability to tweak around with navigation buttons, app drawer, icon size, font, shadows, and more. You can also install custom icon packs and can play around with animation speeds and styling. Overall, it's one of the best Android launchers available in the market.
Nova is an excellent choice for most but really shines in the hands of those who know what they are doing. There is a Prime paid-for option, but this can be safely passed over by most.
4. Power+ Launcher – Battery Saver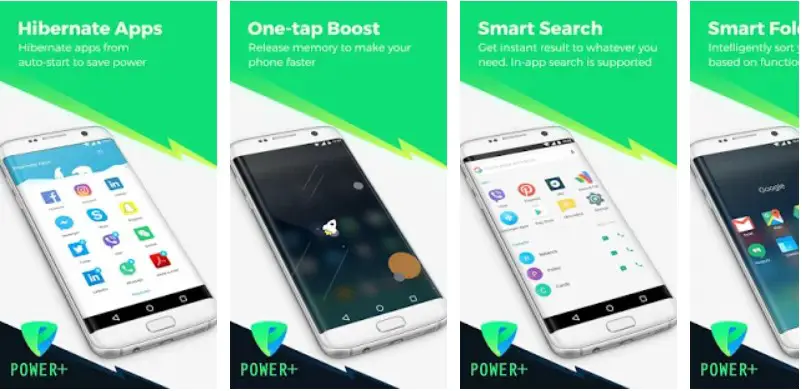 Power+ Launcher is one of the most efficient launchers out there, due to its outstanding battery-saving feature that actively monitors the apps running in the background. When an application unnecessarily runs for too long in the background, it simply stops the process and thereby reducing the overall consumption of the application.
The launcher uses the Accessibility feature to hibernate applications. This prevents them from auto-start, something similar to what we've seen on apps like Purify. That aside, you get features like other applications, in-app search and unread count badges for calls, and messages.
5. Action Launcher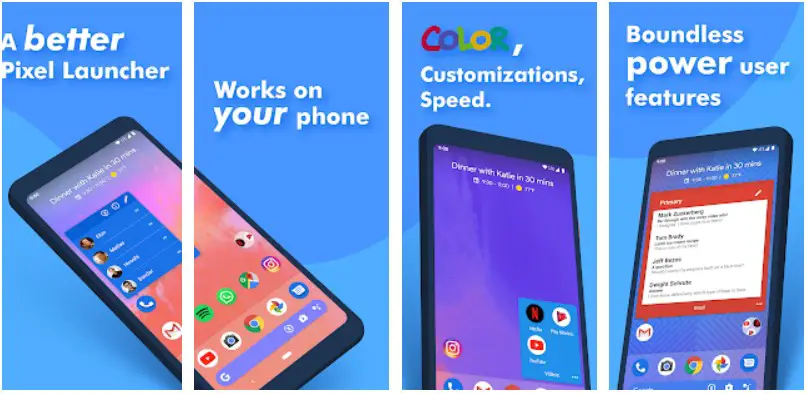 With Nova launcher mostly known as the best launcher, it is safe to say that Action launcher is second. The app might not be as old as other launchers, but the regular release of updates proves that the developers actually pay attention to the users and that can be really comforting.
What sets Action apart from the rest is the inclusion of the "Shelf" feature. Which gives the OxygenOS like feel that is found in the OnePlus device. If you like to keep things simple and yet still want to get the best out of a launcher that constantly gives a check run on your battery life, Action Launcher is the app to get.
This brings us to the end of the list. Besides using Android launchers with battery saving features, you can follow a couple of other tips to improve your battery life, given below.
Keep a regular tab at your battery consumption settings as well as the apps running in the background.
Use Android's built-in power-saving mode and avoid installing third-party battery saver or cleaner apps.
For phones having OLED displays, switch to dark mode, and use a black wallpaper if possible.
Also, try not to use live wallpapers and unnecessary widgets as their services keep running in the background.
Turn off connectivity features like WiFi, Location, NFC, Sync, and Bluetooth when not in use.
If your phone allows, crank down the screen resolution and try not to use it on full brightness.
Read next: How to hide apps in Samsung One UI.