Do you fancy playing Massive multiplayer online RPG games? Are you looking for a comprehensive list of the top role-playing games of 2020? Look no further, this is the list you're looking for.
We understand that playing the best android MMORPG games have a positive effect on your mind and help you to connect and engage with friends and other game lovers online. You can act out your fantasy with these games.
These games are designed to keep you engaged to learn how to manage your resources, grow your character, earn rewards from missions, and unlock equipment in order to advance. These games have different themes and storylines that challenge you to survive on minimal tools and orchestrate successful attacks on your enemies in order to progress to the next level.
Check out: The Top 10 Strategy Android Games Of 2020
What Are The Best Android MMORPG Games in 2020?
Looking for a list of the best MMORPG games for Android you, your friends, and other game lovers are playing in 2020? Here are our top 15 picks to install for free in 2020.
1. AdventureQuest 3D
[appbox googleplay com.battleon.aq3d&hl=en]
Since the release of AdventureQuest 3D, it has become a top game to play among android phone users. The game is centered on creating a character, going on dungeon raids, taking up different quests, etc.
You can engage and play with other players, chat with them, and have social engagements with them online. Another reason why you should try out AdventureQuest is that it supports cross-platform playing and your ability to multi-class your character.
2. Era of Legends
[appbox googleplay com.xp101.mtonline&hl=en]
Era of Legends is next on our list of best android MMO RPG games. Just like other top role-playing games, the game requires you to go on quests and raids to build your character and advance to the next stage.
There are several resources and tools at your disposal. The game has an autoplay option that does not require you to actively play the game, but there are stages in the Era of Legends you can't play on autoplay.
3. Rise of Kingdoms: Lost Crusade
https://www.youtube.com/watch?v=UtVtAfmD1OU
[appbox googleplay com.lilithgame.roc.gp&hl=en]
In the Rise of Civilization, you'll be required to choose your chosen country, start a base for your troops, train your troops and orchestrate an attack on your enemies all in a bid to collect resources from your opponents to build your team.
Rise of Civilization offers game lovers real-time PvP battles. Just like in real battles, you can send your troops to explore your enemy's territories before launching an attack on them.
4. Dawn of Titans
[appbox googleplay com.naturalmotion.dawnoftitans&hl=en]
The Dawn of Titans also lets you play real-time PvP battles as you command your troops. Your major goal is to build your troop to engage your enemies in battles, gain their territories, and ultimately expand your own kingdom.
You'll also need to build your troop's resources and grow your character to successfully command them. There are daily quests you'll engage in to keep you motivated to win battles.
5. Lineage 2: Revolution
[appbox googleplay com.netmarble.lin2ws]
Lineage 2 is a breath of fresh air among other MMORPG games for Android. Lineage 2: Revolution's stunning visuals are powered by Unreal Engine 4. This game is popular for its open-world combat mechanism which like many MMORPG games on this list can accommodate battles of up to 200 on one screen.
Netmarble, the creators also have a track record of creating amazing games. In Lineage 2: Revolution, you enjoy seamless open-world combat, Clan and guilds play parties, real-time massive battles. This game is definitely worth the hype.
6. Mobile Royale MMORPG
[appbox googleplay com.igg.android.mobileroyale]
While Mobile Royale isn't entirely a real time strategy game like starcraft, you do have to build a better strategy to win in this game, isn't that what mmorpg games are about?
Mobile Royale MMORPG is one of the fastest growing games featuring lords (players) competing to rule the kingdoms in a medieval world. This game has plenty to offer including 3D world battles, real time actions, gameplay that rocks and great graphics. It's so good, you can totally enjoy MMORPG gaming in real time.
7. Brawl Stars
[appbox googleplay com.supercell.brawlstars&hl=en]
Brawl Stars is one of the most popular MMO RPG games right now with over 12,000,000 reviews on the Play store. While it's not like the massive 100v100 pvp RPG games on this list, Brawl stars 3v3 game modes are to die for. There are many multiplayer modes on this game like The gem grab, bounty mode, Showdown, Heist, and many more.
You can join over 1,000,000 Brawl stars players and play against the toughest brawlers to earn points and increase your super to earn trophies, you'll love brawl stars.
8. World of Prandis
[appbox googleplay com.Oryugen.WorldOfPrandisBeta&hl=en]
The World of Prandis is one of the best android MMO RPG games that offer gamers various attack options. You have vast resources and a map you'd need to explore to master how to attack your enemies.
You'll also need to grow your character's skill level to progress in the game. Choose your tools and weapons carefully from the several equipment boxes. The game has an array of quests you can complete to earn rewards.
9. Order & Chaos Online 3D MMORPG
https://www.youtube.com/watch?v=zR1Gu2JQVZM
[appbox googleplay com.gameloft.android.ANMP.GloftMMHM&hl=en_US]
The world of MMORPG games is quite massive, just like its name. There are thousands of games to choose from and also tons of MMORPG games for Android, one very interesting options to look at is Order & Chaos Online 3D MMORPG as it has a lot going on for it, over 473,000 reviews on the play store.
Explore the world of Haradon Solo on Order &Chaos online and join a community of thousands of players, enter the PvP arena, play around with the multiple play options and enjoy one of the best role-playing games of 2020.
10. Aurcus Online MMORPG
[appbox googleplay com.asobimo.aurcusonline.ww&hl=en]
Another one of the finest MMORPG games for Android you should definitely check out is Aurcus online and while it's not as popular as the option above, it's doing quite well with over 1,000,000 installs on the Play store.



Aurcus online MMORPG delivers slick gameplay as you explore the world of MMORPG in a simple yet deep combat system with multiple game modes such as the regular PvP battles, group battles, a world of adventure with infinite possibilities and a story mode that has a lot to offer, we recommend.
11. Grow Stone Online: 2d pixel RPG, MMORPG game
[appbox googleplay net.supercat.stone&hl=en]
Grow stone online is special, not only is it the MMORPG game we all dream of playing, it's in 2d and reminds you of the good 'ol days. You may think this game is a joke but it recently passed over 1 million installs on the Google play store and has secured its spot on this list of cool MMORPG games for its stunning features, game modes, and weaponry. It also has some idle RPG effects built-in.
The concept of this game is its name. Tap and touch to grow stones and it also has an auto mode if you're not 100% less busy to play, it also has an awesome range of weapons for battles. Enjoy amazing dungeon battles with friends, hunt monsters and if you're in a PvP mood, there's a mode for that.
12. World of Warcraft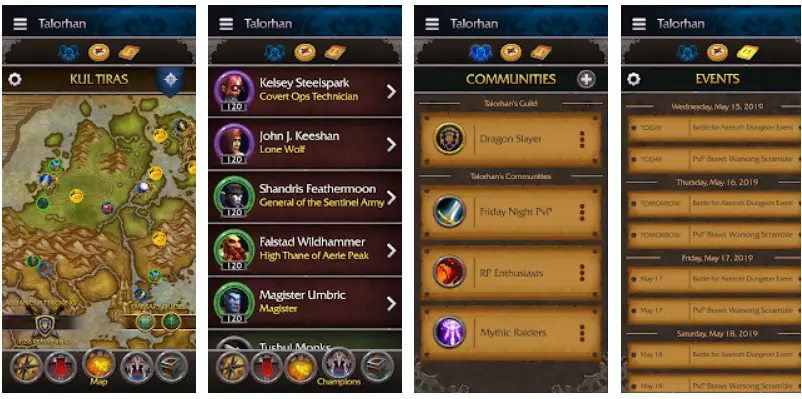 [appbox googleplay com.blizzard.wowcompanion&hl=en]
World of Warcraft a.k.a WoW is one of the oldest and well-known MMORPG games on the planet offering one of the most fantastic gameplay we've ever seen. In WoW, Join other players, go against other players, join missions and partake in epic battles for rewards, like most RPG games on this list, you have characters to customize and troops to manage to make sure your missions are executed flawlessly.


WoW isn't fully available on Android but there's a companion app that doesn't let you do much in the way of playing, but you can still see your active missions, manage them and a couple of other little things here and there in case you're away from your console or PC.
13. Old School RuneScape
[appbox googleplay com.jagex.oldscape.android&hl=en]
Old School RuneScape is one of the oldest and the most popular MMO RPG games ever. You'll be required to gain different skills like crafting, mining, woodcutting, etc to make progress. The game has both free and premium versions.
With the premium version, you'll get a map and a ton of other resources that aid you in having better gameplay. Although it costs a monthly fee of $10.99 or a yearly fee of $99.99, it is a game you'll gladly pay to enjoy all the benefits. But you can still download and install the free android version on your smartphone. The game supports cross-platform playing.
14. March of Empires: War Of Lords
[appbox googleplay com.gameloft.android.ANMP.GloftGHHM&hl=en]
In the March of Empires: Wars Of Lords, your goal is to become the High King over the entire kingdom.
To succeed in your goal, you'll need to build a troop, and utilize your resources to orchestrate successful attacks on your enemies, gain their kingdoms, and rule over them. You'll also need to build your base and fortify it to quell attacks from your enemies.
15. Black Desert Mobile
[appbox googleplay com.pearlabyss.blackdesertm.gl&hl=en]
Black Desert Mobile is an MMO RPG game that offers users a plethora of premium features for free. When you download and install the game on your android smartphone, you'll have to choose a character that defines you and you can still customize it to suit your preference.
There are different exciting missions and quests you can complete to gain free stuff.
Read: 11 Best Tower Defense Games For Android in 2020
16. Arcane Legends
[appbox googleplay sts.al&hl=en]
Arcade Legends is a free MMO RPG game you can play to kill boredom. The game has three different categories to choose from. Each category you choose requires you to have a different skill set to progress further in the game.
The game has an option for game players to battle with other gamers. You can also engage download and install the game on the Google PlayStore. You'd also get rewards for completing quests.


17. Iron Throne
[appbox googleplay com.netmarble.war&hl=en]
Iron Throne is another good MMORPG game you can download and install on the Google PlayStore. The game is designed to test your ability to use minimal resources to build your kingdom, build relationships with friends to jointly combat your foes.
Informing alliances, you'll need to stay focused on your main goal to establish the strongest and greatest kingdom in the game. You can choose from any of the four-game modes: Dimensional Battle, Team Deathmatch, Town mode, and Battle Royale.
Authors note: We're working hard to keep this list of Android MMORPG games fresh and updated, if you have any game suggestions, please let us know in the comments section and we'll run checks on it so others can discover and enjoy it as well. Thanks for stopping by.
Read next: Top 8GB RAM Smartphones List For Gaming in 2020 // Best Budget Phones For COD Mobile And PUBG // Stardew Valley Alternatives: 10 Best Games Like Stardew Valley