Gacha games are so popular right now and this has prompted a lot of searches and questions like "What are the best gacha games? and "What are some similar mobile rpg gacha games I can download"?
You're in luck, we've made that list for you and much like our list of games like PUBG, and the most popular tower defense games, this list of top gacha games too is loaded.
As techies ourselves we've pretty much studied the gacha games industry and watched it evolved over the years since we first heard the term "Gacha", the fascinating term alongside gameplay can be so addictive and if you're an RPG Gacha game lover, you'll find this list of the best gacha games useful in 2020 and beyond.
New read: The Best Budget Phones For COD Mobile And PUBG under $300
What Are The Best RPG Gacha Games?
In no particular order, here are the top gacha games for 2020 to download free from the Google PlayStore.
Alchemist code is a well known and popular mobile RPG gacha game. The usual thing is the regular RPG mechanics, but the Alchemist code makes use of strategy RPG mechanics.
This means you have to move the units around the board to combat and battle the villains. The strategy RPG mechanics are not too different from the regular RPG mechanics, so, it doesn't take time to adjust and get your sweet moves and touches.
2. Tales of Erin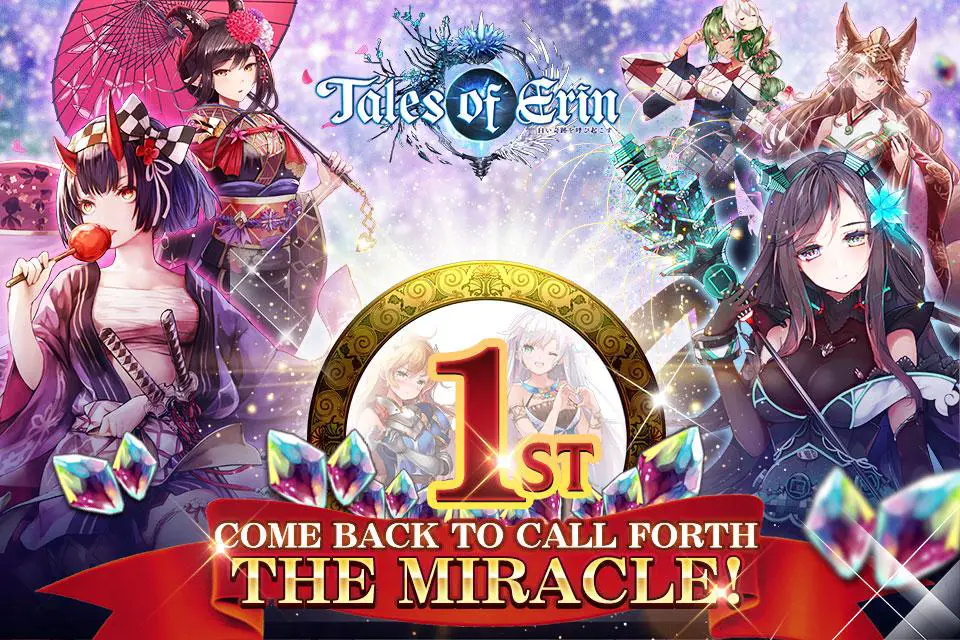 Tales of Erin is one of the most popular mobile RPG gacha games online today and it is one of the best with a 4.5 rating from over 50,000 reviews on the Google PlayStore.
The visuals of this game are compelling as well as the story which is the backbone of any gacha game really. Alongside the stunning visuals, Tales of Erin also features more than 80 unique heroes and a cast of voice actors alongside deep character progression to enhance your experience.
You can also play Tales of Erin with friends with its advanced real-time multiplayer feature.
Marvel Strike force is one of the most talked-about gacha games Reddit, Maybe because it carries the iconic name of the Marvel franchise or the fact that you get to have earth's mightiest heroes fight for you.
This gacha game is a well designed with a good storyline and integrates all the marvel characters from their various universe since the Marvel Strike force game is a squad RPG game, that's quite understandable.
Be prepared to even play this gacha game with characters like DareDevil (Matt Mudork), Wolverine, Black Panther, Elektra, Rocket Racoon and so on.
Marvel Strike Force game brings epic visual combat and stunning visual gaming to your device, if you're already a fan of Marvel cinematic based movies, this might be your favorite gacha game of this list.
Created by Cygames and published by Nintendo, Dragalia lost is one of the coolest most popular RPG games for mobile at the moment, available on IOS and of course Android.
Dragalia lost focuses on using dragon for characters that you can upgrade and build weapons from, this mobile rpg game features quite a lot of characters, on top of that? The storyline of this game is one of the best on this list. If that's something you care about, Dragalia lost is for you.
While Dragalia lost is free to download and play, it requires an internet connection to be able to access the gameplay, the vibrant display, the fantastic storyline and other perks that come with playing this game.
Dragon Ball Legends is one of the most popular anime action RPG games of all time.
As far as gacha games go, this one is up there and with a lot of popular characters too, How great would it be to play your favourite games with characters that you know and like. Dragon Ball Legends lets you play characters like Goku, Vegeta, and the likes.
Dragon Ball Legends has great controls and set up for class action PvP battles. You also get to play with and against others in the stunning visuals this game delivers. To make things sweeter, DBL has over 800k positive reviews and 10,000,000 installs on the Google PlayStore.
6. The Seven Deadly Sins: Grand Cross
This exciting game has been around for a long time but just got renewed and better than ever.
Anime lovers will find this gacha game even more enticing and befitting. The seven deadly sins is a free gacha game just like every other on this list with in-app purchases.
This game delivers a novel approach to combat, nice graphics, PVP features, options to collaborate with friends and render your favorite characters using augmented reality, many reviewers called it one of the best gacha games they've played in 2020.
7. RAID: Shadow Legends
RAID: Shadow Legends is one of the biggest and best mobile rpg games for Android with over 10,000,000 installs and 800,000 reviews, there's no way you'd have played games that shows ads on your android device and not see a couple about this game.
RAID isn't just a popular game cause of the ads, as mentioned above, RAID is a state of the art Android RPG game that has a lot of features as well a very interesting storyline.
Choose from over 400 characters for your champion with raid, finish epic boss battles to collect amazing rewards, and similar to PVP games like PUBG, Raid also features its own PvP arena where teams can go against each other.
Explore strategically with this RPG game and enjoy the stunning visuals as well as the hassle-free gameplay, its very easy to get and if you're already familiar with a number of the mobile RPG games mentioned in this post, you'll find RAID extra easy and interesting to play.
The soundtrack and storyline of this game are exceptional and superb. Many things about this game remain scintillating, but the most obvious is the storyline and the soundtrack. The game employs a broad range of cast of the famous anime series to give Gamers several and morefold choice.
Other unique features of this game are that you'll have various units to summon, a good number of unusual and exclusive events and spellbind anime-style graphics. However, the sole complaints that come in about this game are dissension between the Japanese version and the Global version.
Nevertheless, it remains a sui generis Gacha game in which a layman in anime series will gain a lot of pleasure and satisfaction playing.
This is a recent and unfamiliar Gacha game. If you know Chrono Trigger, then you know the brains behind the story writer and music composer of this Gacha game. There are some similar events in Another Eden and Chrono Trigger such as; Time travel and other story, design elements and a few others.
There should be updates and more developments subsequently to be done on the Gacha elements as it is relatively little compared to that of other games. This Gacha game has a map for the gamer to use and explore.
You can also engage in story missions like early console JRPGs instead of the regular and conventional mission style gameplay.
Azur Lane is another new Gacha game with an almost perfect review score on the Google Playstore and a bit improvisation of the popular Kantai collection game in Japan.
Of a truth, the original game should be appreciated and revered more, but the Kantai collection has a regional limitation because it cannot be accessed anywhere outside of Japan.
Just as the feature available in other Gacha games, the Gamers get to summon characters as usual, except the whole characters are females that transform into a tank.
The game consists of more than three hundred (300) characters.
Summoners war is one of the oldest and most played rpg gacha games in history with over 100 million players around the world a nearly perfect review score from over 2,000,000 people.
Summoners war has quite the strategic gameplay with a wide range of monsters with different abilities that you can even customize, infact, you can summoners war one of the top strategy games as well.
Summoners war has a lot of things that make it unique and loved, that's for sure, apart from the fact that you get to battle quite a lot of monsters on this one, like every other game on this list, the ability to form teams, is keen in gacha games. You also get to evolve into a homunculus in this game, the gameplay is amazing, graphics are stunning, you'll enjoy playing summoners war for sure.
Among other games on this list, Brave frontier is actually one of the most popular with over 700,000 amazing reviews on the PlayStore, it is one of the best gacha games on the planet right now and it is free with a lot of communities around it in places like Reddit, YouTube and so on.
Brave Frontier has been there for a long time. It is a proper mobile RPG, and it works like every other Gacha game. The features are just similar to other Gachas.
You can summon characters, and use them to combat and defeat the antagonistic characters or the bad guys. Brave Frontier is F2P friendly, a non-complex to play a game that Gamers will sure love.
Just like every other gacha game, exos heroes has it's own very unique feature(s). One of the most noticeable is its polished 3D graphics. A lot of gamers are excited about the flawless graphics, of a truth everyone expected something beautiful, but no one saw it coming this pleasant.
Diverse gameplay modes were actually promised, from the CBT, there were activities and events such as; treasure hunting.
The game also had the feature of AFK levelling which requires the game to be on and active. It also has a feature where you can switch the gender and appearance, though the idea behind it remains unclear and unknown at the moment.
Some other beautiful make-ups of this game are; Anime-style artwork, online PVP, streamlined fights and combats, exciting and engaging stories.
Quite epic that the number seven in the list is "Epic Seven". Every game comes with different vibes and sensation.
A lot of people who have dropped their reviews have hailed the engagement they've gotten from epic Seven. The reviews can get you to abandon whatever you have at hand to go and download the game and try it out.
It's very catchy and engaging, it is a hybrid type, with the combinations of Mecha with anime and CGI stuff. It has loads of funny stories. The Gacha system is all great and fun. It also has amazing graphics. It has a vast number of events and a highly active community. It is a huge plus.
This is a special one for the gaming world, but trust me, the anime lovers are going to appreciate it so much more.
If you're an anime lover, I can boldly say it is impossible you have not heard of this game. This game is all an anime lover craves. Trust me, the fact I am talking about anime lovers appreciating it more doesn't mean it will not please others. Surely everyone who gets to play this game will definitely enjoy it and ask for more.
It is a great and fantastic Gacha game that will get every gamer entertained and excited.
Langrisser Mobile is another masterpiece of extraordinary graphics work. If you are a graphics person, you can't even find a place to flaw this game based on graphics. It is a sweet combo of fantastic 3D and 2D graphics. This contains all you can ask for in a game.
This one also follows the line of the famous final fantasy franchise; in essence, it is a prevalent and well-renowned game. I might be mistaken if I end up not saying this one is very awesome as well. Very amazing graphics.
An exciting storyline that makes you want to keep going and going. Of a truth, it is not any young, but it won't give you anything less than Electrifying.
---
Definitely, there are many other new Gacha games, but the above listed are the ones that made it into our top 13 list for 2020 as the best gacha games, through the year, we'll be updating this article with new and cool finds.
Other gamers might find them not so enjoyable anyway, and it validates the saying that beauty is in the eyes of the beholder. Enjoy your gaming periods, and don't forget to drop your comments naming your top games as we are on a high level of curiosity to see games that tickle your fancy.
If you like to explore with apps on your smartphone, You'll love these Alternatives to Spotify apps 🙂
Play Roblox? Enjoy it much? Here are some similar games like Roblox you'll love as well. Need to buy a new phone for playing your favourite gacha games on a budget? Check out the Best Budget Phones For COD Mobile And PUBG under $300