Great, so now you can disable Bixby in new galaxy devices that don't even have the dedicated button.
Samsung launched Bixby many years ago, announced 2017, officially launched in 2018, in a bid to fill the assistant hole in its Android-based devices, much like how iPhones have Siri has an assistant, Bixby is the inbuilt assistant app/feature in Samsung Galaxy smartphones.
In a bid to make sure that its users use this new feature, Samsung may have pushed a lot of people to the edges with its aggressive Bixby adaptation, even went as far as creating dedicated Bixby buttons on its device so you can access the feature with just one click.
Read this: 10 Awesome Video Sharing Apps Like TikTok, Triller
But did it work?
Still didn't click as a lot of people were looking for how to disable Bixby on their Samsung smartphones and that extra Bixby button on the device just seems to irk a lot of people out.
So Samsung got rid of the Bixby button on its new galaxy devices and did something even more annoying, replacing the power options when you long-press the wakeup button on your Samsung device to Bixby options and placing the power options in the slide down menu.
Now you could simply get used to this if you use Bixby all the time but if not and you'd like to Disable that Bixby option when you long-press the wake-up button and revert to the original power options set up.
This article shows you how.
How to disable Bixby on new Samsung Galaxy Smartphones
As mentioned earlier, the power options can be restored to its original state, here's how to disable Bixby and return power options in your new Galaxy devices.
You can start by going to settings.
Scroll down to advanced features and tap on it.
Click on side key and you'll get the options for what you can set your side key to do.
You can then choose to get the power off menu when you press and hold your side key and that about does it.
Here's what it will look like on the Samsung Galaxy A51: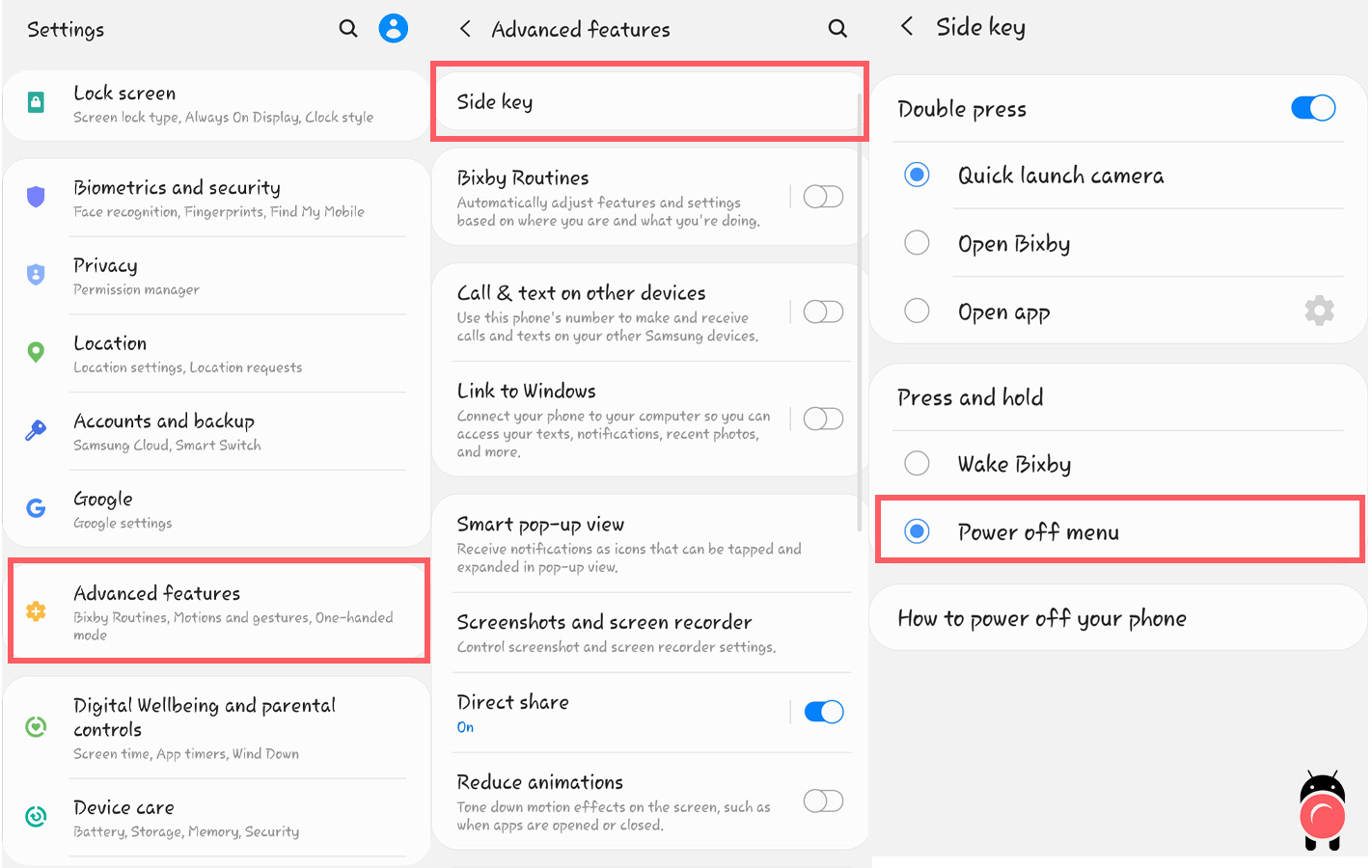 If you still want to use Bixby
Yes, if you're already loving Bixby but still want your power off menu to be what pops out when you press and hold it, you can still use the double-tap feature to wake Bixby.
Instead of switching on your camera or opening app you've configured, double-tapping should wake the Bixby button so you can still use it.
 Wrapping it up
Samsung really wants you to use the Bixby button, but you don't have to.
With this simple tutorial, you can get rid of this when you hold down the side key button but it doesn't mean Bixby totally goes away on your device, the app still exists on your phone and you can access it some other way on your device.
Read next: How to Hide Apps In Samsung One UI Phones Like Galaxy A51, A71 // Ok Google Not Working? How to Fix Google Voice Not Working // Memoji For Android: How to Use Memoji On Android