Imgur is a popular image hosting and sharing site that provides freelancers and bloggers with a massive library of pictures and excellent video editing tools. You can also edit your videos with the best android video editing apps.
Image links, embedded codes, and different types of image files can be created within minutes. Although Imgur is an excellent site where you can host, edit, and share your pictures on various platforms, there are lots of other websites that are excellent imgur alternatives.
Choosing the right Imgur alternative can be tricky because these other websites provide excellent services too. But, they each have features that make them useful to individuals around the world.
Related read: Twitch Alternatives: 8 Best Game Streaming Sites Like Twitch
What Are The Best Image Hosting Sites Like Imgur?
Whatever may be your reason for seeking Imgur alternatives, Here's a list of the best image hosting and sharing sites that'll serve you well enough like Imgur.
Flickr is one of the best, and most popular picture-sharing social platform that works just like Imgur and It is owned by the famous search engine company, Yahoo. Flickr has both free and paid subscriptions.  With the free subscription, you have access to good picture editing tools, as much as 1000 pictures/videos limit, pictures, and video backup.
You'll also get as much as 1TB storage. Each picture you upload can be up to 200MB and it comes with unlimited resolution. Flickr has a "Discover" feature that enables you to see new images from other Flickr users around the world. Explored Flickr too? Check out these Flickr alternatives.
ImageShack is next on our list of Imgur alternative websites. It is a premium photo hosting and sharing site functions just like Imgur, but unlike Imgur, you will be required to create an account before using the website.
You can also sign up with your Facebook account. As a free user, you have a 10 GB monthly limit of pictures you can upload on ImageShack. But as a paid member, you have unlimited access to uploading images as you desire. It has other features like image discovery which enables you to see new pictures from users worldwide. ImageShack supports albums creation, tags addition, privacy settings, and picture editing.
Photobucket works best for bloggers who want to create image links quickly. You'll be required to sign up on the website before you start using this service. Once you upload your images, different types of links are provided for your use.
The site has a photo library you can easily choose from and edit to your preference. The downside of using Photobucket is that there are way too many ads on the website. If you're having problems charging your android smartphone, here are 6 ways to make your phone charge faster.
SmugMug is a photo hosting and sharing website created to help you create links for your images. It has excellent image editing tools that make your pictures have a professional look. SmugMug has various subscription plans. With a payment plan of $3.99, you can upload unlimited photos to the site, but the more expensive plans offer you a lot more.
You will be able to create galleries and albums to showcase your photos, free bandwidth, e-commerce optimized images you can easily share on your website. You can visit the SmugMug site to start your free trial.
5. ImgBox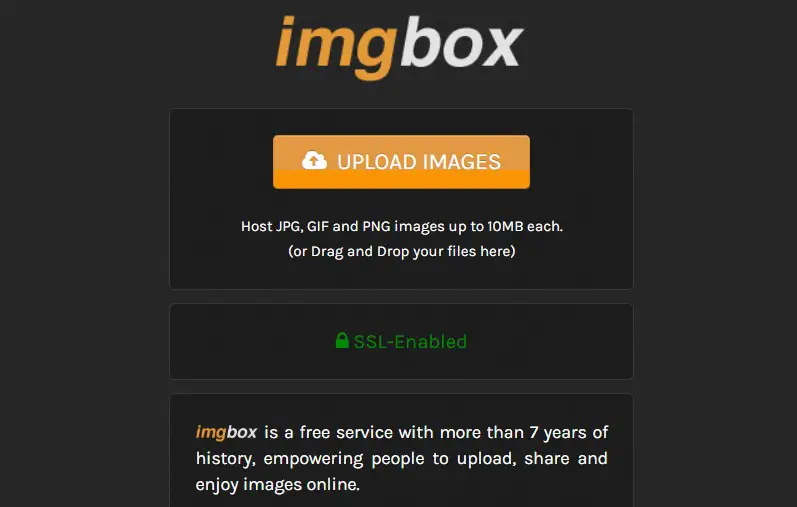 ImgBox offers users around the world, free image hosting, and sharing service. Due to its premium features, it has become a choice website to host and share all your videos and images links.
If you are concerned about the storage capacity of the best Imgur alternative sites to choose from, then you should consider ImgBox because it offers unlimited storage space. But the limitation of this site is that your images must not 10 MB per file.
6. Kek.gg
Kek.gg is next on our list of Imgur alternatives. You can host and share your images on Kek.gg. All you have to do is visit the site to begin using the service; you don't need to create an account to upload your photos and share the links.
The only restriction of using Kek.gg is that each picture you upload must not exceed 5 MB. This picture hosting and sharing website allows users to post more adult related content when compared to other sites.
FunkyIMG is another Imgur alternative that you can quickly use to create shareable links and image types. You can upload as many pictures you want, but each image you upload to the website must not be more than 4 MB. To enjoy this file hosting and sharing service, you don't need to create an account.
Simply visit the site, upload your images, and six different link formats are automatically available for you to share. FunkyIMG offers users a simple drag and drops method of adding images to its site.
Postimage is a good image hosting and sharing website for bloggers and freelancers who quickly want to create and share an image link.
You don't need to create an account to use this website. Once you upload an image on Postimage, you have access to different types of links you can easily share. These links include hotlinks, direct link, image URL, thumbnail sharing, etc. You also have access to excellent picture editing tools you can use anytime.
9. TinyPic (Now defunct)
TinyPic is an excellent picture hosting and sharing website with a lot of cool features. Some of these features include video and picture discovery that lets you view beautiful photos from other users, premium editing tools, creation of direct link and image URL, etc.
All of these features are free, but there are tons of other features you'll have access to when you register on the TinyPic website. After you've signed up on TinyPic, you can create photo albums, add texts and tags to your images and do a lot more.
UltraIMG offers users a photo hosting and sharing service with premium features. There are two different categories of accounts you can sign up for – either the registered account or you simply use the website without registration. Signing up on the platform gives you access to features like creating albums and galleries, cool editing tools, etc.
As soon as you upload pictures on UltraIMG, you'll be able to share hotlink, the image in various formats, embedded codes, direct links, and many more. You can upload as many pictures as you desire, but each photo must be limited to 10 MB for all image formats.
Read next: Kik Replacement: 8 Best Instant Messaging Apps Like Kik