If you love football or basketball, you would like to watch the latest matches and enjoy the intense action. Besides, you will also love to have the updated info on players' stats, transfers and pre-match lineups.
Luckily, tons of apps can give you updated with basketball or football news. With these apps, you can even get the latest info on your favourite team or player. Now here are the 10 best android sports app for football, basketball updates.
Related read: 9 Best 3D Launchers For Android In 2020
What are the best Android Sports App for soccer, basketball updates?
In no particular order, here are the top free sports app to install free on your Android device.
1. ESPN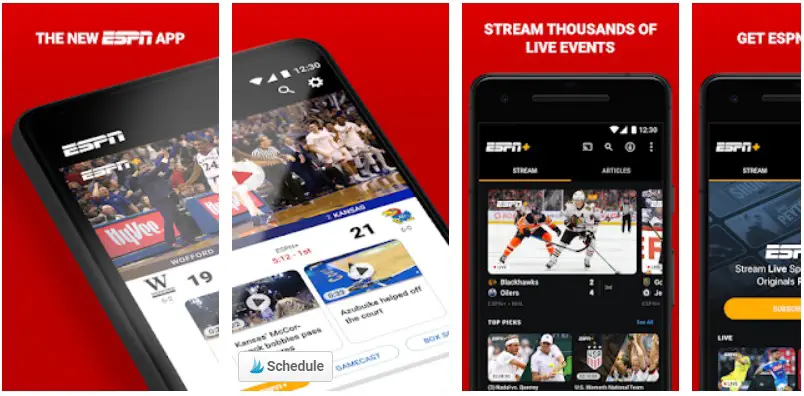 If you want to have the lastest basketball or football news, the ESPN mobile app deserves a place on your device. With this app, you can have to get updated info on scorelines and lineups from various soccer leagues and the NBA.
Do you want to see your favorite players in the locker room or before a game? The ESPN app also provides stories and videos from members of your favorite sports team. Since the app offers notifications, you can't miss any of the action.
2. Bleacher Report Sports App
This exciting app is a simple way to get up-to-the-minute information on your favorite basketball or soccer team. It also offers new stories on various sports events from across the world. Like most of the 10 best android sports app for football, basketball updates, it also provides notifications for breaking news.
If you want an in-depth analysis of a basketball or soccer match, the Bleacher Report features articles with any sports information you might need. You can watch also live videos of different sports events.
3. Yahoo Sport
Yahoo Sport is one of the 10 best android sports app for football, basketball updates. On this app, you can receive updated news from La Liga, Italian Serie A, EPL, and other football leagues. It also offers basketball-related content from NBA events.
It requires 26MB worth of storage space so its ideal for entry-level devices. It also has an interface that makes it perfect for people of all ages.
4. SofaScore: Live Score, Football & Sport App
Do you want an app that offers more than scorelines and videos from soccer and basketball games? Then Sofa Score comes as the right choice for avid sports enthusiasts.
For basketball fans, the app has a live score graph that shows the performance of the winning team. With the shot map, you can also check the players that made shots during the game.
As expected, the app also extra features for soccer matches. For instance, it provides details of a player's stats. Also, a heat map shows player movement on the field, especially during a game or a full season.
5. LiveScore: Live Sports Scores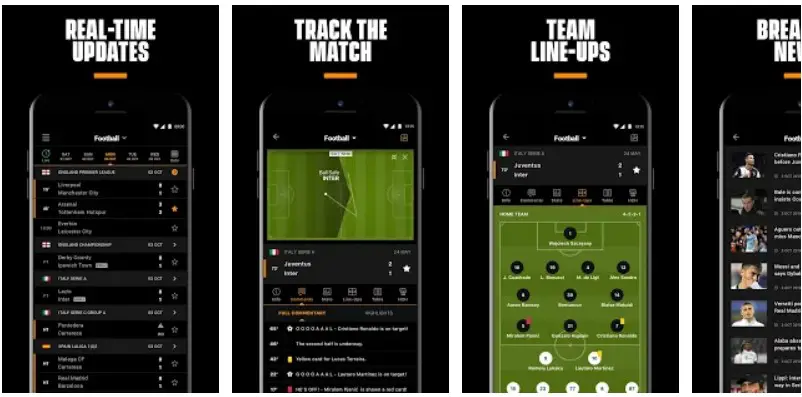 Like most of the 10 best android sports app for football, basketball updates, Livescore offers a quick summary of many events, including basketball and soccer.
Because of the live notification feature, you can get the latest updates on goals and cards. If you want to keep an eye on multiple games, the app can also offer alerts for such purpose.
6. NBA: Live Games and Score
Even if this app focuses on basketball, it comes as a worthy mention on our list. Apart from showing scores from various games, it has tons of fantastic features.
If you are at work or stuck in traffic, you can watch live matches via the NBA app. But if you can't afford to spend tons of data on streaming, you can download a game and watch it offline. You can also get the official NBA basket schedule. With this knowledge, you can prepare for any upcoming games.
7. Soccer 24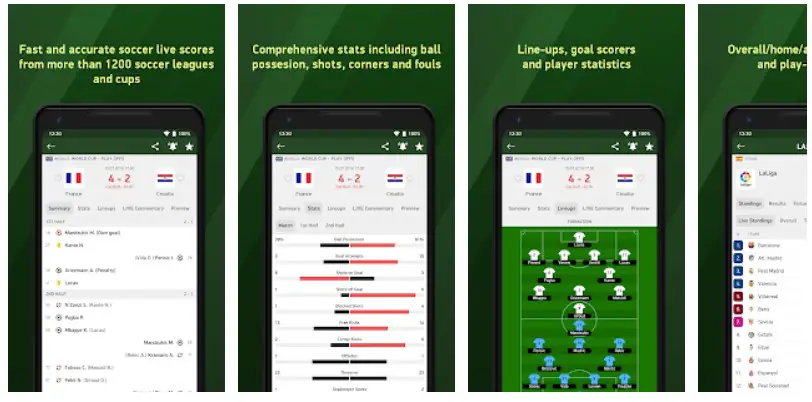 As the name suggests, Soccer 24 provides info on only soccer tournaments. Since it gets content for up to 1000  leagues, you will have important news from any of your favourite football team.
From substitutions to cards, the Soccer 24 app has current details for each featured game. You can also use the app to discover the potential lineup for every soccer match. Moreover, it is free to download, so there is no need to bother about getting your credit card.
8. Flashscore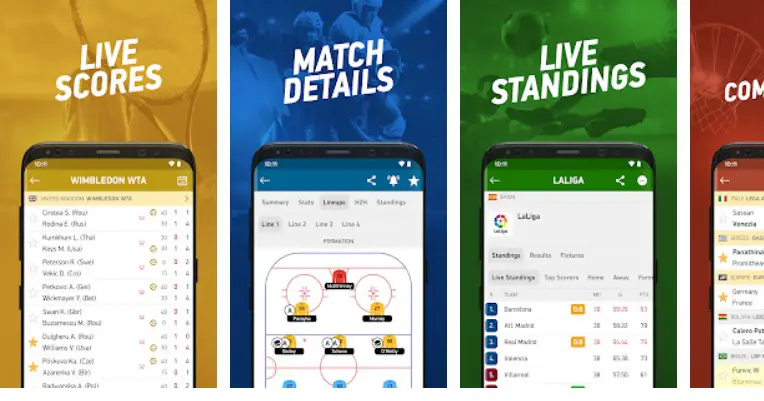 There are many reasons why you should love Flashscore. First, it supports live text commentaries which keep you updated even without watching the TV. Also, the app provides a head- to – head feature for checking the past encounters of two opposing sides.
For people who prefer more than regular stats, the app promises recaps and match reviews. Overall, it comes as one of the best android sports apps for football, basketball updates.
9. 365Scores – Live Scores and Sports News
On the Google Playstore, this app comes as one of the popular apps for getting the latest news on basketball and football games. After all, it has up to 10m downloads on the distribution service.
Like most of the apps, it has stats and league tables. However, 365 Scores takes it further by having an entertaining football trivia game. 365 Scores does not use much storage and is free to download. But it comes with adware, and you might have to make some in-app purchases.
10. AiScore: Live Scores for Soccer & Sports
AiScore covers most of the games on a wide selection of basketball and football leagues. For basketball, you can get info from the NBA, FIBA, and CBA. If you are a soccer fan, the app features games from major European leagues, the Champions League and the MLS.
When you don't have time to follow any match, the app uses a pop-up notification of penalties, goals, and other relevant stats. But if you are free, you can tap the matchup icon and have access to extra content. So if you need one of the best android sports app for football, basketball updates, the AiScore is a perfect option.
Wrapping it up
Even if you can't watch your TV, these apps promise the best info of basketball and football events. Furthermore, they won't consume the storage on your Android device. These are the best selections on sports apps for your Android phone, most of this soccer, NBA updates apps are also available on the apple app store for iOS phones.
Read next: 11 Best Free Rhythm Games For Android And iOS // 8 Best Free Offline MP3 Music Player Apps For Android // 11 Best Free Gallery Apps For Android