Rhythm games are a great way to pass the time. Apart from offering great sounds, they help you relax and even enhance your skills of observation. Luckily, you can download find these games on the Google Playstore and download them for free.
While free rhythm games aren't a popular term, there are many popular games in this category, Dancing Road: Color Ball Run, for example, has over 1,000,000,000 installs. If car racing games aren't your thing, or you're not in the mood, you'll love these free rhythm games.
Read this: 11 Best Tower Defense Games For Android In 2020
What Are The Best Free Rhythm Games for Andriod?
Are you interested in playing these types of games? If yes, here are 10 best free rhythm games for Andriod in 2020.
Price: FREE
If you are a fan of 3D games, you will love Aracea. Apart from promising top-end graphics, the game has over 160 songs from various artists. With each song, you will have to try out three different difficulty levels.
To keep things interesting, the game receives regular updates for fresh content. But if you want to splurge a little, you can also buy songs. Arcaea is one of the 10 best free rhythm games for Andriod. It has easy-to-use controls and does not require an internet connection.
Price: FREE
VOEZ is also one of the best free rhythm games for Andriod in 2020. Here, you play as a member of a teenage band that wants to become famous.
Do you love games that have a massive collection of songs? Well, VOEZ has an impressive library that will get you excited. Since the game offers new content, you can get new songs – every month.
Like most of the best free rhythm games for Andriod in 2020, VOEZ receives regular updates. For this reason, you have a fresh supply of free and paid songs to download. Besides, you can even set up competitions against players from various parts of the world.
Price: FREE
There are many reasons to love Lost in Harmony. For instance, it has graphics that keep you hooked to your screen. It also has an incredible soundtrack from real-life artistes ranging from Wyclef Jean to Godspeed Vivx.
It is easy to play Lost in Harmony. Just tap the screen and enjoy the music. If you like, you can customize a level that you can play with your friends.
The game is free to download. But it comes with adware and in-app purchases. If you choose to ignore these few drawbacks, it remains one of the 10 best free rhythm games for Andriod in 2020.
Price: FREE
If you like playing free rhythm games on your Android device and you haven't played Dancing Road: Color Ball Run, you're missing out big time.
Over 400,000 people rated this game one of the best on the Google Play store and have hundreds of thousands of installs. One of the best features of this game is the modern songs it brings to the mix as you navigate the ball through obstacles. Play your favorite game while listening to tunes from your favorite artists in one of the most beautiful, colorful setups ever.
This one we recommend but there's just one con, it can be irritating when you have to watch an ad to unlock new songs, if you don't mind that, you'll still enjoy this game but you can also just pay for no ads and enjoy a smooth gaming experience.
5. Beat Blade: Dash Dance
Price: FREE
Beat Blade is one of the most popular free rhythm games for Android and iOS gathering over 250k reviews on the Play store. This game features everything you're looking for in free rhythm games in terms of creativity, music, aesthetics, and overall gameplay.
Beat Blade: Dash dance will have you on your toes with the traps you have to dodge and yes, the hit songs on this game are countless, they're the most recent tracks people all over the world are listening to in 2020. Highly recommended.
Price: FREE
Phigros is quite popular, not as popular as most free rhythm games for Android on this list but its managed to get a high 4.7 stars rating on the play store as at the time of writing this post.
Phigros is a laneless music game that blends your favorite sounds with gameplay so fascinating you're hooked. In this game genre, phigros stands out and is played by those who appreciate the perfect blend of music and visuals. The reviews speak for this game and we think it'll make a fantastic addition to your smartphone gaming options.
Related read: 10 Interesting Games Like Age of Empire
Price: FREE
If you are a fan of Avicii's music, this game deserves a place on your device. Most of the action occurs in space, so you will have to control a spaceship.
During the gameplay, you will enjoy the artistic environments and exciting music. As you progress, you will receive powerups that will prepare you for the next round. Luckily, the game is offline so that you can play it anytime and anywhere.
Ads will pop up as you play the game. You will also have to make some in-app purchases.
Price: FREE
Unlike most rhythm games on Google Playstore, this Beat Mp3 2.0 does not bore you with tacky tunes. Instead, it also allows you to select songs from your device's memory.
Thanks to an onboard music analysis system, the game offers perfect timing. It even uses a single song to create different types of game modes. When it comes to graphics, you will love the electrifying visuals.
Beat Mp3 2.0 is a free game, but it also has ads. To unlock the full version of the game, you will have to make some payments.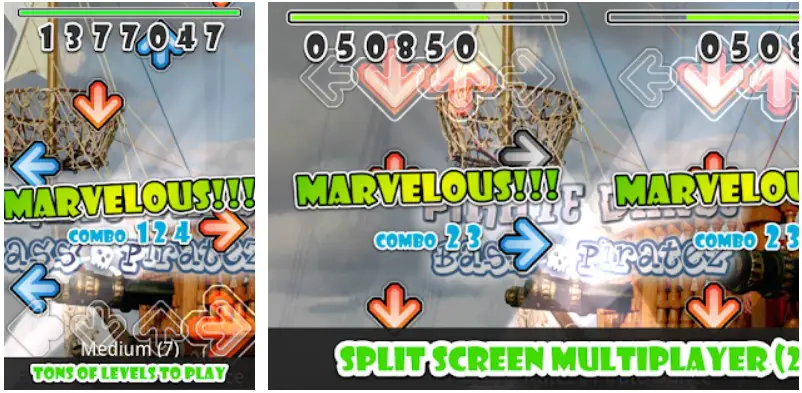 Price: FREE
If you are still interested in getting the 10 best free rhythm games for Android in 2020, you can try this incredible game from Maniacs s.r.o. You can play the game with a Bluetooth joystick, dance mat, or keyboard asides using your on-screen controls.
The game also supports HD graphics in either landscape or portrait mode. It also has an exciting soundtrack that will help with gameplay.
Price: FREE
At first glance, Deemo might not look like a music game. But it stands as one of the best free rhythm games for Andriod in 2020.
In this game, you have to use piano music to grow a tree. The game offers beautiful classical music from various composers. For every playable song, you have three difficulty levels.
When it comes to visuals, Deemo has an interesting collection of art. It is also easy to play – touch and slide. As mentioned earlier, Deemo is a free game. But you can only unlock all features by making payments.
Price: FREE
Developed by  Rayark, Cytus is another rhythm game that you should try out. It has 200 songs, so there is a low chance of getting bored. Besides, these songs are drawn from various genres.
Complete with a beautiful storyline and graphics, Cytus deserves to be one of the 10 best free rhythm games for Andriod in 2020. It is also an offline game, so don't worry about spending extra cash on data.
Price: FREE
On Bang Dream Girls Party, you will play as a member of a band. You will also have to practice for a large live concert. If you love Japanese anime music, this game has tons of titles from various J-pop artistes.
Apart from playing music, you can have conversations with members of your band. If you want a little adventure, you can explore the town. The game is another free game that features ads and in-app purchases.
Price: FREE
Unlike most games on our list, Cytoid does not have a large music library. Instead, it allows players to upload customized step music. As a player, you can download and use these files.
It does not require much space, which makes it ideal for entry-level phones. Moreover, it is free to play while offering some adware.
Conclusion
Google Playstore has tons of rhythm games. But finding the right one might look like an impossible task. With this regularly updated guide, you're sure to find the game of your dreams.
Most, if not all of these games are also available on the Apple app store for iOS device users.
Read next: 11 Best Android Strategy Games Of 2020 // Archero Hacks: Tips And Tricks For Better Gameplay // 10 Awesome Games Like Final Fantasy Tactics For Android