GarageBand is a great tool for editing music originally created for mac, and the entire iOS ecosystem. Since its launch in 2004, the app became the preferred solution for people who want to make or edit music on the go. However, the GarageBand is not free to use, and it does not have an Andriod version.
If you have an iOS-based device, you're good to go though.
But how do you get similar services to GarageBand on your Android device for easy, seamless audio, music editing? We've discovered a couple of nice GarageBand alternatives on the Google Playstore that offer top-end features.
In addition to the features they offer, these apps are very easy to use and will not consume space on your phone.
Related read: 8 Best Offline MP3 Music Player Apps For Android
10 GarageBand Music Editing Alternatives Apps For Android
If you're looking for apps like GarageBand for Android, here's a top ten list of the most popular apps on the Google Play store.
Our review starts with one of the most popular Garage Band alternatives – Walk Band. Developed by Revontulet, this music editing app has recorded millions of downloads on Google Playstore.
The app boasts of several instruments that you can use with your music. It also allows the conversion of MIDI to mp3 files. If you have finished working on your files, you can upload and share your files on the cloud.
BandLab is one of the top Garage Band alternatives for Android devices. Like most of the editing apps on our list, BandLab has a huge following on the Google Playstore.
The app features an editor that even suits beginners. You can choose from a huge selection of tunes, beats, and even vocals for your music recordings with this option. If you need some inspiration for your latest music production, you can check out some works on the BandLab Explore tab.
Since the app does not consume much space, it is ideal for low memory devices. Besides, it does not support ads or in-app purchases.
Are you still looking for more music editing apps like GarageBand? Then it would help if you considered Easybrain's Groovepad. After all, it has a rating of 4.7 while offering tons of useable features.
First, it has a simple interface that offers tons of soundtracks. Besides, the Groovepad has a library that provides tracks from various genres. You will also love the party FX effects that can jazz up your parties.
Groovepad is another free – to – download the app. However, it offers ads, and you might make some in-app purchases.
Although Drum Pad Machine is not an app like Garage Band, it has features that can rival what you can find on the best editing apps like Garage Band.
The app allows you to create nice tunes by drumming on your phone screen. Moreover, it supports different tunes, which makes it great for all kinds of genres.
However, the Drum Pad Machine app offers tons of ads that might affect your editing. Overall, it comes as one of the top music editing apps like Garage Band.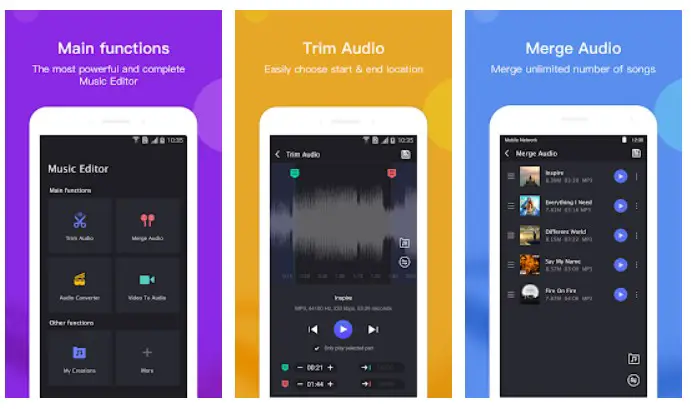 If you don't mind spending money on music editing apps like GarageBand, you will love this app from Pony Mobile. It comes with features such as an audio editor and ringtone maker. Also, it offers an impressive MP3 cutter.
The Editor enables users to trim and merge recordings. After finishing your edits, you can enter the featured My Creations tab and correct any errors.
Since Music Editor Pro is a paid app, there is no need to bother about ads and app purchases. But if you don't want to spend on music editing apps, you can choose the free version.
This tool is the mobile version of the equally popular PC app, FL Studio. Like the original version, it has several features for making amazing music on your device.
Users can apply any of the featured effects to enhance their music. After making an edit, you can export it to WAV, MP3, and FLAC formats.
Although this app is not free, it comes as one of the top music editing apps like GarageBand. It even has an interface that looks good on any screen.
Even if this app was designed for smartphones, it could compete against some of the top music editing tools for PCs. When it comes down to it, it can make, edit, or play amazing music.
Users of Ableton will love Remix Live as it is compatible with the music-making hardware. Moreover, you can import files of various audio files.
The game is free to download. However, you will have to cope with some ads and in-app purchases.
AudioLab stands as one of the popular music editing apps like Garage Band with over one million downloads. Apart from editing audio files, this cool music editing app boasts a tag editor and voice changer. It even extracts the sound from your favorite videos.
Are you looking for the best music editing apps for beginners? Well, Beat Maker Pro has tons of tutorials that will guide amateurs. As their playing skills become better, the users can record and share their performances.
This drum pad app has a colorful design that looks good on any Android device. Thanks to these features, it stands as one of the best music editing apps on Google Playstore.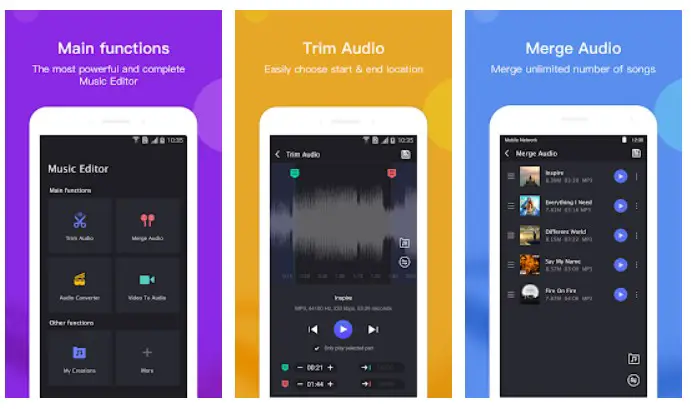 Even if it consumes a little space, the Music Editor has everything that you would expect from a music editing app. It trims, merges, and converts audio files. Besides, it boosts the volume of the file.
The interface is simple and suits all users. But like most music editing apps on our list, it supports some adware.
Suggested read: 12 Best Video Editing Apps For Android and iOS
Read next: 13 Best Free Rhythm Games For Android // 11 Best Ringtone Apps for Android // 9 Best Spotify Alternatives For Android and iOS