Let's not lie, the default keyboard app or solution that comes pre-installed with Android is boring AF. But you know one of the best things about the Android OS is the ability to download apps that enhance your experience.
Take these offline music player apps to replace the default music player app for example, or these free camera apps to replace the default camera app and so on, even for file managers.
Downloading and installing any of the best free keyboard apps for android makes using your smartphone typing experience more enjoyable. Most of these access to a keyboard with features like word suggestions, auto-correction, swipe typing, and text analysis. You also need access to a keyboard that has emojis, memes emoticons stickers, and gifs to send funny creative messages.
The 10 Best Free Keyboard Apps For Android in 2020.
Premium features you NEED are sometimes not available on the stock keyboards. Hence the reason why you need to install any one of these free keyboard apps on your smartphone. These are the best free keyboard apps for android in 2020 in no particular order.
1. Microsoft SwiftKey Keyboard App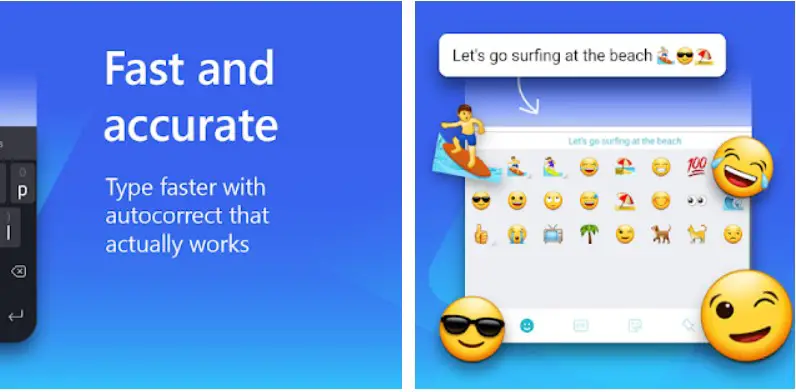 Microsoft's SwiftKey is next on our best free keyboard apps for android. The app uses artificial intelligence which makes it easy for auto-correction and predictive suggestions. There are different GIFs, memes emoticons stickers and emojis you can use to create your own personalized emojis. You can also select from the pre-installed themes to create your unique theme.
Swiftkey also allows for swipe typing that lets you create words just by moving your fingers on the screen while the keyboard is up and has a lot of other amazing features.
2. Gboard Keyboard App
Google's GBoard is a keyboard app that offers android smartphone users more options than the pre-installed keyboards that are available in most android devices. You'll have access to premium features that make typing on your smartphone fun and easy. Its auto-correct, predictive suggestions and swipe typing increase your typing speed and accuracy.
The app comes with a Google Search feature that enables you to search for pages directly from your keyboard. You have an array of GIFs, stickers, themes, emoticons, and emojis used that can customize for your use. Other features that make Gboard a default keyboard app for most Android smartphone users are voice dictation, adding images to the keyboard's background, phrase predictions, etc.
The Gboard supports more than 100 languages.
Trending: Best 30000mAh Power Banks to Buy in 2020
3. Fleksy Keyboard App
Fleksy keyboard works perfectly well if you're interested in having a keyboard app with great typing speed and accuracy. The app has a lot of premium features such as auto-correct, predictive suggestions, and swipe typing. Its features are highly customizable to give you a unique user experience.
You have more than 800 emojis, memes, emoticons, GIFs, and over 50 colorful themes you can easily customize to your previous. Fleksy keyboard supports more than forty different languages. You can create shortcuts for frequently used tools.
Download Fleksy: The Private Keyboard
4. Grammarly Keyboard
The Grammarly keyboard is your best bet if you're always sending text messages and emails. You'll also find this app useful if you want to handle formal written text from your smartphone. The keyboard has auto-correct, auto-suggestion, and predictive suggestions.
Grammarly keyboard does not correct your messages and emails alone, it provides explanations for each grammar mistake you make. The app also comes with swipe typing. The downside of the keyboard app is that it does not have customizable emojis, memes, gifs, and sticker options.
5. Chrooma keyboard app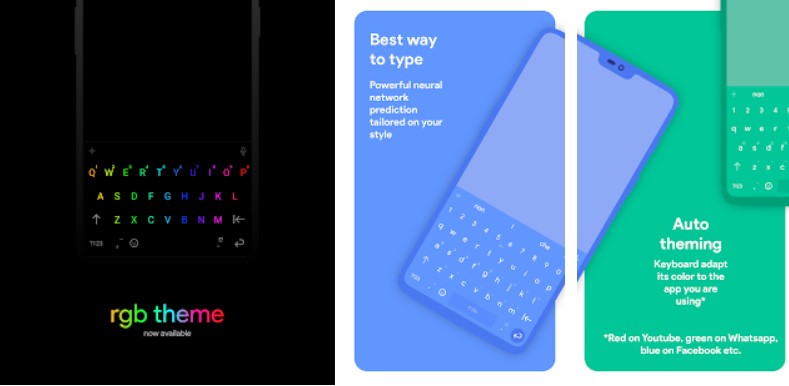 Chrooma Keyboard app is powered by Artificial Intelligence which gives users a more accurate typing experience. The app comes with a lot of customizable features like keyboard resizing, auto-suggestion, auto-correction, auto-prediction, text prediction, etc. Another interesting feature of the Chrooma keyboard is that it changes colors automatically as you switch from one app to another. For instance, if you download and install the app, each time you log in to your Twitter account, the color changes to blue. It changes to yellow when you are using the Google Keep app.
6. Facemoji Keyboard
Facemoji Keyboard allows you to capture your images and customize them into funny emojis, emoticons, memes, etc. If you're fond of sharing emojis, GIFs, memes, then you should download and install the Facemoji keyboard app from Google PlayStore. The app has more 3500 cute stickers, emojis, emoticons, you can share with your friends. It has features that enable you to combine different emojis to create unique emojis.
Download Facemoji Keyboard app
7. Ginger keyboard app
The Ginger keyboard app works great for android smartphone users who frequently use gifs, emojis, emoticons, memes, stickers, and themes. There are different types of emojis, themes, stickers, etc you can customize to create your own funny chats. The app uses artificial intelligence to analyze and predict your writing styles. You'll notice that the more you use this keyboard, the better the AI feature serves you.
7. FancyFey keyboard app
FancyFey keyboard app is a free keyboard app that is widely used by android smartphone users. You'll get a number of premium typing features like auto-correct, auto-suggest, over 60 fonts, over 60 themes, over 3000 emojis, and emoticons. FancyFey keyboard supports more than fifty languages. You have as much fun customizing your unique themes, emojis, and emoticons. The keyboard stores your previous text and offers you gesture typing based on your messages.
Download FancyFey keyboard app
Interesting for you: 10 Best Free Call Blocker Apps
9. Go Keyboard
Go Keyboard offers you a lot of features that make typing fun and easy. The app supports many languages which makes it possible to spell words correctly even in languages other than English. It has auto-suggestion, auto-correction, and an integrated dictionary that tells you the meaning of words. Go Keyboard has more than 1000 various emojis, themes, fonts, memes, emoticons, stickers, etc.
10. OpenBoard keyboard app
OpenBoard is an open-source free keyboard app that helps you to have a great experience typing on your smartphone. It has features like auto-correct auto-suggest and predictive texting. You can customize these features to your specifications. If you're worried about your data being hacked by third parties, then you should download and install OpenBoard keyboard.