Are you tired of destroying bosses on your screen as a result of playing MMORPG games or something similar? Or do you want something different from a strategy game? If yes, then you should try a good old puzzle game.
Bosses aside, if you like to give your brain the kind of clue solving vibes hidden object games give you, this is the genre to go for.
Puzzle games are exciting ways to pass the time. Besides, you can use these games to test your thinking skills and train your brainpower. Luckily, you can play these games on your Android or iOS device, most of them are free.
Related read: Shark Attack: 10 Best Animal Attack Games For Android, iOS
10 Best Puzzle Games For Andriod and iOS 2020
Looking for a list of the best puzzle games for Android and iOS? Here are some of the top puzzle games to play in 2020 in no particular order.
Gardenscapes is one of the games that will keep you hooked to your screen. Developed by Playrix, Gardenscapes has everything that you would expect from a good puzzle game.
Most of the action in this game takes place in a run-down garden. Your mission is to solve numerous puzzles and restore the park to its former glory.
During your missions, you will enjoy decent graphics and tons of levels. Besides, Gardenscapes supports a system that allows you to keep tabs on in-game events. The game is offline and free to play. However, you will have to endure some ads and make some in-app purchases.
If you have always wanted to tackle a jigsaw puzzle on your device, Just Jigsaw should feature on your device. Since it requires about 35mb of internal storage, it is ideal for entry-level phones.
Just Jigsaws has tons of jigsaw puzzles so that you won't get bored. If you are tired of what the game offers, you can turn any of your pictures into a jigsaw puzzle.
It also has clear graphics that make you feel as if you are playing with real-life jigsaw pieces. Moreover, Jigsaws Puzzle offers the same challenge as a real jigsaw puzzle. This game is also available on the Apple app store for iOS device users.
Wood Block Puzzle is a Tetris-like game that has won the hearts of millions of players. In this game, you will have to fit wood blocks into matching spaces. Since it does not offer a time limit, the Wood Block Puzzle allows you to plan your moves patiently.
It does not require an internet connection or a massive storage space. Besides, it is free for anyone that wants to test their skills. However, this game is supported by only Android devices.
Jigsaw Puzzle is another option for people who love solving jigsaw puzzles on their devices. Compared to most of the games on this list, Jigsaw Puzzle is one of the smallest games that you can install on an Android device.
The game offers these puzzles as images from various categories. Since these pictures are crispy clear, you will enjoy looking for matching pieces.
You can play this game without Wifi or mobile data. However, it supports several ads and in-app payments.
Do you miss playing Tetris on your old school video game console? Then you should add this game to your list of puzzle games. After all, it has the same gameplay as the classic Tetris.
To play the Puzzle game, you will have to place blocks into matching spaces. The game boasts of bright colors and does not need an internet connection.
Apart from jigsaw puzzles or Tetris style games, you can also pick a word puzzle game. Under this category, Word Connect is one of the best puzzle games for android and ios devices.
The game does not require many skills. Just swipe any of the letters and create a new word. If you can't find any new terms, you can spend in-game coins on hints to solve the puzzle.
You can also enjoy tons of daily rewards. If you want extra coins, you will have to watch some of the featured ads.
There are many reasons why this game is perfect for testing your thinking skills. For instance, it offers challenges of varying difficulty levels. It even works without using your data connection.
To play the game, you will have to guess the name of any of the featured pictures. There are many pictures to solve, so there is no chance of you getting bored.
Pictoword is excellent for adults and kids. But you will have to cope with tons of adware.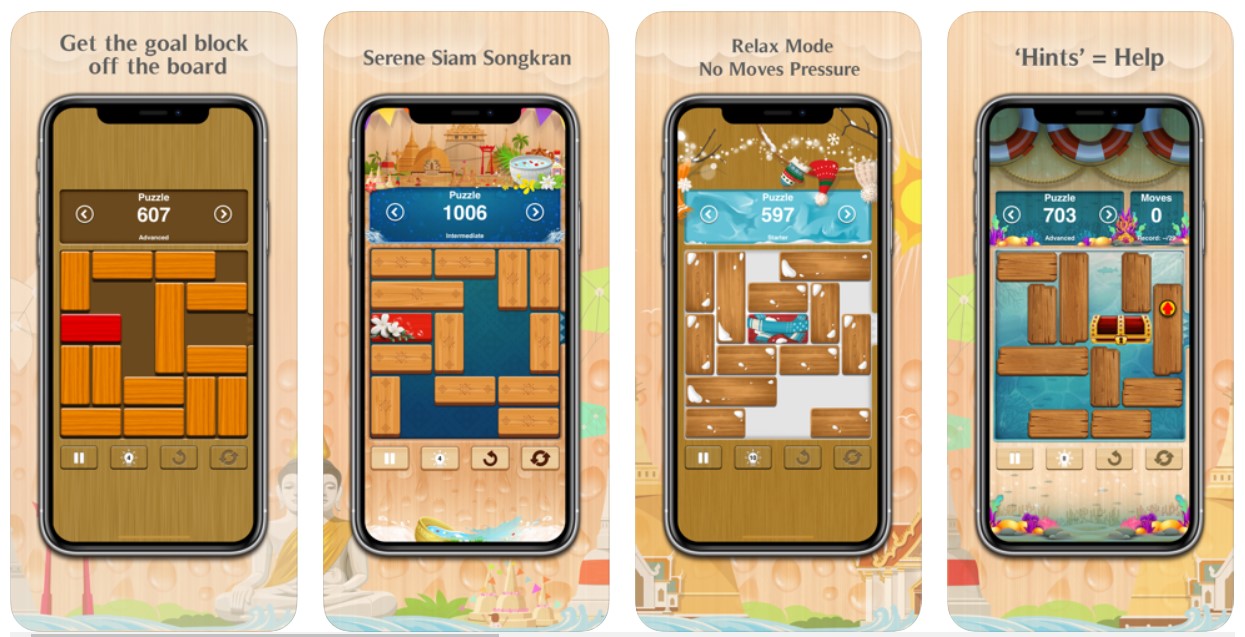 The mission in this game is straightforward. You will have to slide some wooden blocks and free the red block. However, you will have to use your deduction skills to win this game.
Unblock has many levels that will put your brainpower to test. But if you encounter a difficult stage, you can use the provided hints to solve this problem.
Are you bored with the blocks that litter your screen? Well, you can select the Car Theme that converts the red block to a car held in traffic. Unblock works on both Android and IOS devices. It is also another game that works offline.
This game does not offer a single puzzle game. Instead, it has a collection of more than four addictive puzzle games. However, it will not consume much space on your device.
The games are suitable for adults and kids. Also, it is free to play. But it does not work on iPhones or any other iOS devices.
Numazu tests your skills with numbers. Here, you will have to head to a maze and arrange scattered numbers. Although the game looks easy to play, it will present a worthy challenge to your brainpower.
The game also uses wood blocks that will make your screen attractive. Most animations are realistic, making it easy to forget that you are playing a mobile game. You can access NumPuz for free. You can even play the game without losing your data subscription.
Numazu is available for Andriod and IOS devices, so if you want something that suits both devices, download and install this exciting puzzle game.
Read next: 10 Best Cooking Games For Android and iOS (2020) // 12 Best Free Rhythm Games For Android And iOS