There are many Education apps you can use to engage your children during this period. Childhood is a strategic time in the learning process of a child and needs proper attention.
Keeping kids occupied when school is not on the session can be a difficult task to accomplish. Instead of allowing them to play games on tablets and other electronic devices, you can download learning-education apps for kids and keep engaged.
You might want to ask, "what are the Best Learning-Education Android apps for kids?"After thorough research, we have a list of the 10 Best Learning-Education Android Apps for kids.
These apps will improve intelligence quotient (IQ) of the kids and help them grasp things that may seem difficult in a fun and way easier way, let's get to it.
Read this: 8 Best Free Camera Apps For Android
The Best Learning-Education Android Apps for Kids
In no particular order, here are the best learning-education android apps for kids on Google Play store.
This is one of the best android learning-education apps for kids. It is a preschool learning game for kids and helps children learn Nursery rhymes, fruit names, animal names, numbers, and alphabets.
If you are looking for a free, exciting, and simple android learning-education app that will help your kids learn phonics and letters of the alphabet, you've found yourself the perfect one.
Early Learning app is not just kid-center; it was designed with adults in mind too. Parents and teachers can go to the settings and enter teacher mode to see the kid's performance in the report card, phonic games, and toggle tracing to facilitate the kid's learning better.
Kids Education is a great app for both kids and teachers. It features puzzle games, quiz games, and painting for kids' options. The game's learning part has different options like ABC for kids, learn shapes and colors, animal sounds, sports, sports world, fruit name, fruit game, the animal kingdom, and lots more.
The User interface and graphics are super cool and fantastic. The app also has a quiz section where kids can take an English quiz, general knowledge quiz, fun quizzes, and easy vocabulary.
3. Kids Learning (Offline) / Preschool / Nursery
Are you looking for the best android learning-education app for pre-nursery kids? Then Kid Learning is the perfect choice for you. The app features Vehicle names, vegetable names, water animal names, shape knowledge, school items, reptile names, insect names, fruit names, flowers name, numbers, alphabets, colors name, body part name, birds name, number counting, alphabet knowledge and lots more.
The app also has an English Game, Math Game, Clock Game, and other exciting games that you can use to test your kids' knowledge.
https://www.youtube.com/watch?v=bGeOWkc3NJA
Kid's spelling learning is one of the best learning-education android apps for kids to learn spelling and typing. It features over 1000 spellings with images. The app also has a kid's keyboard, which they can use to learn how to type.
Kids will learn spellings such as Body part spellings, Flower spellings, Month's spelling, Days selling, Color spelling, and many more.
https://www.youtube.com/watch?v=CO6v5BxQP_8
This is probably our best selection on this list. It consists of thousands of exciting activities to help kids learn how to read, spell, etc. The app also features a wide array of educational activities, songs, books, and games for first graders, kindergarteners, preschoolers, and toddlers.
The app is free without requiring regular subscriptions and is ad-free. It has a robust curriculum covering areas such as literacy, reading, phonics, counting numbers, addition, subtraction, measuring, shapes, problem-solving, and lots more.
Kindergarten Learning is one of the best apps for kids to learn numbers, alphabets, rhymes, shapes, tracing, counting, coloring, body parts, interactive charts, and lots more.
The app is user-friendly, parents and teachers can use it to enhance the learning process of their kids. The app is designed to engage the kids for long without getting bored.
7. Kids Educational Games: Preschool and Kindergarten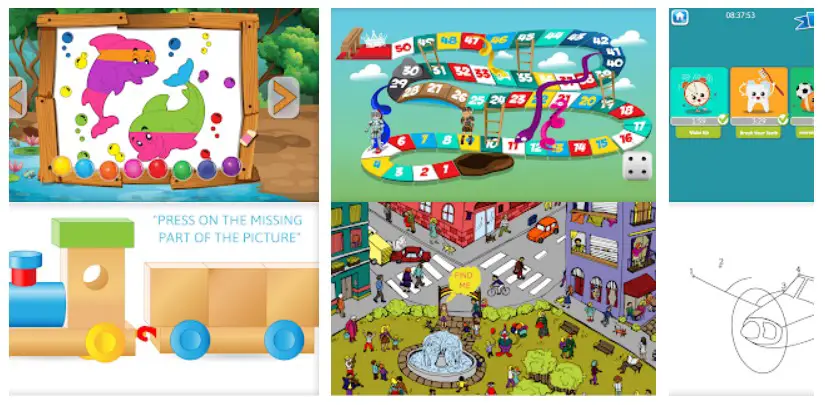 This is a free educational game designed for preschool and kindergarten kids. The app has an extensive collection of memory games, logical games, educational games, to improve kids' learning process. It features over 32 learning games to help boost the cognitive abilities of kids in all areas. The game is designed to help kids learn the letters of alphabets, math, writing words, shapes, coloring, and lots more.
Kids math learning is an education app designed specifically to help kids under math some more. It features Learning addition, subtraction, multiplication, and division of numbers with two layouts. Kids will also learn counting numbers from 1 to 100, greater than and less than and many more interesting areas in math. The game has a setting option where parents and teachers can set the minimum and maximum values in the game based on the age of the kids.
This app will help kids to learn all the basic topics of preschool. The app features a preschool learning game where kids can learn basic math, English, counting numbers, days of the week, Month, names of birds, animals, vehicles, fruits, and lots more. This helps to increase the thinking level of kids and boost their retentive memories.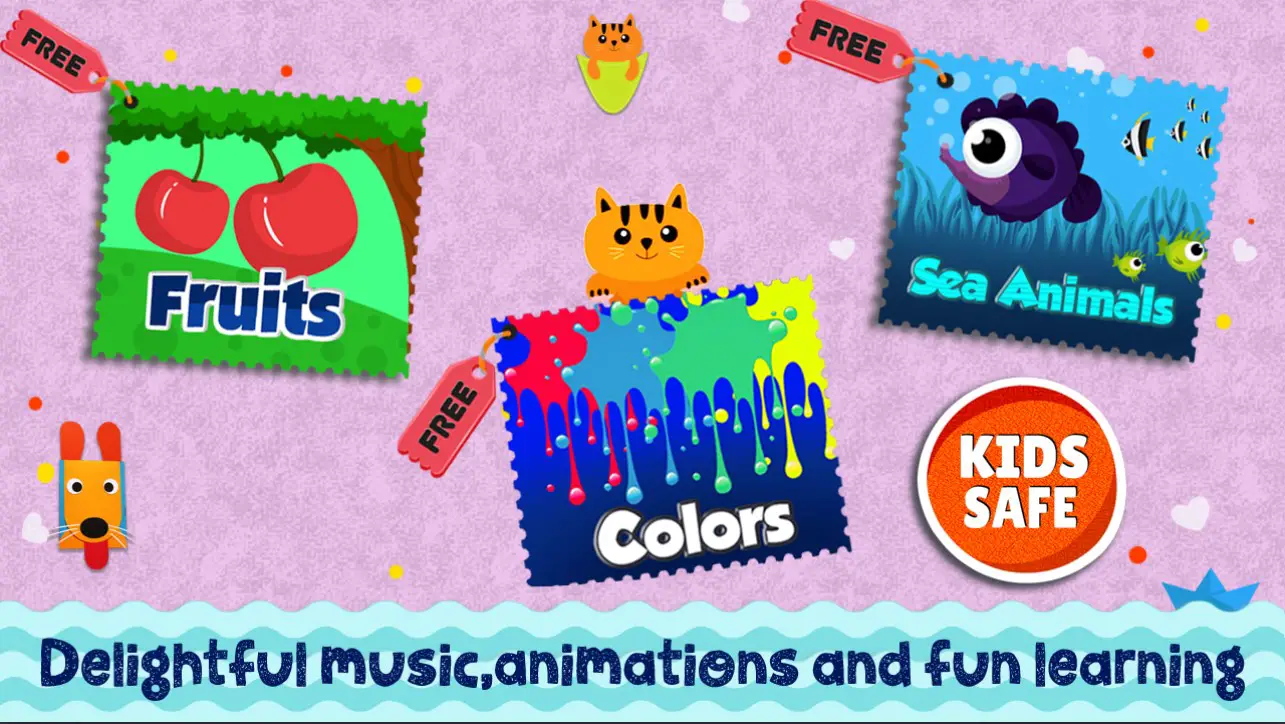 One of the most effective teaching kids' methods is the play method, which involves singing and other educational play activities. If you are looking for the best preschool learning songs and videos for your kids, then you have found yourself the best.
This app will help your kids learn phonics, colors, shapes, and numbers offline. It features numerous learning songs and offline videos that will boost the learning process of your kids.
Wrapping it up
There is no better way to keep your kids engaged at home in this period than using the best learning-education android apps for kids. There are many more on Google play store, but we believe that you are good to go with the ones listed in this review above.
Read next: 11 Best Free Gallery Apps For Android // 10 Best Free Call Blocker Apps For Android