When it comes to pdf documents, finding the best PDF, doc opener and editor apps for Android might look like an impossible task. Besides, many Android devices do have pre-installed apps that can help you handle pdf documents.
So how can you work on this file format without using your PC?
Surprisingly, Google Google Playstore has many options for viewing pdf files. They even boast of features that can also help you edit any PDf document and view .doc files.
Now here are the 10 Best Pdf Doc Opener and Editor Apps for Android.
1. Adobe Acrobat Reader
This app comes as one of the 10 Best Pdf Doc Opener and Editor Apps for Android. Moreover, it has about 500m users from around the world, thereby making it the first choice for working on pdf files.
With this app, you can open and read the contents of pdf documents. If you want a word or sentence – on the material – the reader has a Search function for this purpose. You can zoom, make comments, and highlight any part of the document.
2. PDF Reader for Android
If you want to read and edit pdf documents on an Andriod device with low storage space, the PDF Reader for Android should stay at the top of your wishlist. After all, it requires 15MB worth of storage and still has features that can rival any of the top 10 best PdF doc opener and editor apps for Android.
For instance, the PDF Reader for Android allows you to read pdf documents on your phone easily. You can even make comments and edit any paragraphs. Moreover, it can convert your Word document into the PDf format.
3. Xodo PDF Reader and Editor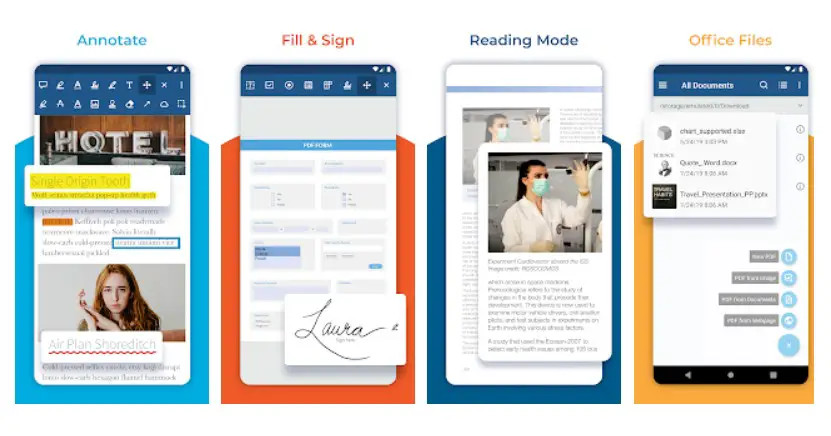 Xodo PDF Reader and Editor is another great tool for working on pdf documents. Apart from opening this file format, Xodo lets you add bookmarks to any part of the material. Luckily, it has a Night Mode so you can read the text in places with poor lighting.
If you want to change the document's words, you can use the app to type in your preferred text. You can also add symbols, highlight words, and even create a new pdf file.
4. Foxit PDF Reader Mobile
Are you still looking for the 10 Best Pdf Doc Opener and Editor Apps for Android? If yes, you should check out the features of this mobile reader.
Foxit can search for words on any part of the document. If you prefer hearing the files read out loud, the app can perform this task. This mobile app can also edit text, add videos/ images, and change the file into Word or HTML format.
5. Kdan PDF Reader
There are many reasons why you will fall in love with this fantastic app. First, it can open password-protected Adobe files. Next, it supports scrolling in portrait and landscape mode.
You can also use this app on your mobile device to sign Adobe Pdf documents and outline any text. Thanks to these features, it is one of the 10 best PdF doc opener and editor apps for Android.
6. Doc Viewer
Unlike most of the mentions on this post, Doc Viewer does not edit files or perform any fancy functions. Instead, it helps you open and read documents in various formats, including PDF.
It requires little space and boasts of an easy-to-use interface. To use this app, you will need an internet connection. Besides, Doc Viewer includes some adware.
7. Docx Reader
Although it has some noisy ads, the Docx Reader app is one of the best PDF doc opener and editor apps for Android.
If you want to skim a PDF file, this app can open one – even if the file is locked. Moreover, it does not require a data connection before it can get any work done.
8. All Documents Reader
This option is perfect for reading documents in PDF and other formats. Anyone can use this tool as it has a simple interface. Also, the Document Reader can rename files and has features for sharing books in pdf format with your loved ones.
This app is free and does not consume space. But like most of the doc Opener and editor apps for Android, it offers some adverts.
9. Document Viewer
Although this tool cannot edit a pdf document, it helps you read the contents with ease. For instance, Document Viewer arranges files in folders for quick searches. It also opens documents within seconds.
Document Viewer allows offline reading and uses 28MB of your device's storage. If you choose to ignore the ads, this tool stands as one of the top pdf doc opener and editor apps for Android.
10. All Doc Reader and Viewer
The All Doc Reader allows users to access pdf documents on their Andriod devices. Since it requires 11MB of your device's storage, you can describe it as the lightest tool on this list. But it still promises features that rival anything you can find on the 10 Best pdf doc opener and editor apps for Android.
With the All Doc Reader, you can do many things with a file. For example, you can use this solution to rename the file, edit, and even share it with your friends. If you prefer large-sized content, you can use this app to read the document in full-screen mode.
Conclusion
Initially, you would need a PC to view and edit any document in PDF format. You can now visit the Google Google Playstore and get an app that can display and write such files correctly.
Each of these apps might come with ads; however, they do not consume much space while others can work offline. Got any suggestions? Talk to us about it in the comments section.
Read next: 8 Best Free Offline MP3 Music Player Apps For Android // 11 Best Free Rhythm Games For Android And iOS // 11 Best Hidden Spy Apps For Android