Word games are great ways to train your brain and pass the time. You can even use these games to build your vocabulary. Wordrage is a word game from Bayhall Digital. In this game, you will search for words that are hidden in a grid. If you find the words – within a time frame- you will be rewarded with points and tons of extra time.
However, Wordrage requires an internet connection. With this in mind, you might have to try other word games on your mobile device. Luckily, Google Play has other games like Wordrage.
Related read: 10 Best Learning-Education Android Apps For Kids
Love to play Wordrage? Here are Games like Wordrage
Here are the top 10 interesting games like wordrage for Android devices, most of these games are also available on the Apple AppStore for iOS phone users.
1. Word Cross
https://www.youtube.com/watch?v=6nqY32dTNJE
With over ten million downloads, Word Cross is one of the best word games for mobile devices. The game features a crossword puzzle to test your spelling skills. Since it offers up to 2,000 challenges, Word Cross is a fun way to pass the time.
Unlike Wordrage, this game does not require an internet connection. Besides, it is free and easy to play.
>> Download It.
2. Bonza Word Puzzle
If you want more games like Wordage, you should check out the Bonza Word Puzzle. Apart from offering a word search, the game also features a mix of jigsaw puzzles and trivia.
On Bonza, you will have to arrange several sets of letters to solve the puzzles. Since it is an offline game, you can play it anywhere and anytime. It also has tons of daily challenges so that you won't get bored with this game.
However, Bonza Word Puzzle comes with adware. You will also have to make some in-app purchases.
>> Download It.
3. TypeShift
Lovers of games like Wordrage will also love TypeShift. With this game, you have daily challenges and an appealing interface. To unlock most parts of TypeShift, you will need to make some payments.
Do you want to clear the ads on the game? Well, the game also requires payment for this purpose.
>> Download It.
4. Baikoh
https://www.youtube.com/watch?v=PsTVzGjpuwE
Baikoh is another excellent game to play on mobile devices. Even if it is a word game, Baikoh reminds us of Tetris. If you prefer something extra, the game offers funny remarks that will keep you smiling.
You can play the game without an internet connection. But if you want to compete against your friends, you can turn on your data for an exciting online battle.
Also, Baikoh is free to play and boasts of many challenges. It also suits devices with low storage space. But you will have to endure some ads that might pop on your screen. So if you love games like Wordrage, you should add it to your list.
>> Download It.
5. Magic Words: Free Word Spelling Puzzle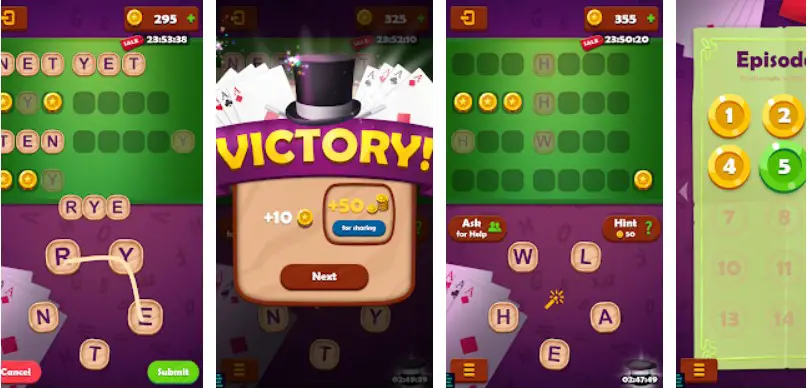 The challenges in this game will keep you entertained for hours. If you can't solve the puzzles, the Magic Words allows you to take hints from your friends.
Magic Words is a perfect game for all ages. But if you can't endure ads, you might have to find other games like Wordrage.
>> Download It.
6. Words of Wonders
Do you want more games like Wordrage? Well, Words of Wonders can enhance your vocabulary and spelling skills. It even helps you learn about different places in major cities.
Word of Wonders suits all ages. To play the word puzzle, you will have to connect the letters. After solving a challenge, the game takes you to a new location. Since the game has a multiplayer mode, you can invite up to 4 players to your puzzle. You can also set up battles against your friends.
Word of Wonders is free for download and works on any Andriod phone. However, payment is required to remove the ads on the game.
>> Download It.
7. Word Crossword Search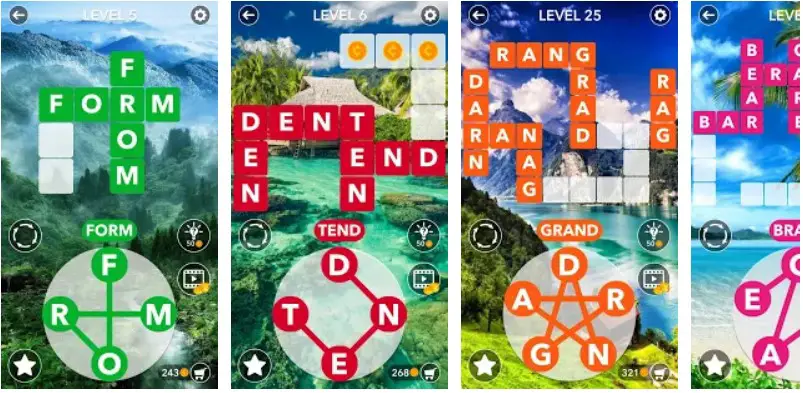 If you are tired of boring backgrounds, you should try Word Crossword Search. After all, it boasts of pictures from exotic forests, islands, and other locations.
On the gameplay front, this game ticks all boxes. For instance, it works without data and builds your vocabulary. Besides, it promises up to 3000 levels while supporting different languages. However, it has ads that might make you look for other games like Wordrage.
>> Download It.
8. Word Connect – Word Games: Word Search Offline
This game has enough features to keep you interested for hours. For instance, it has hundreds of puzzles for all ages and supports offline play. It also saves your game automatically. So if your battery runs down, you can resume a running game without any hassles.
Unlike most word games, Word Connect has beautiful background images. If you don't like the featured pictures, you can swap them for pictures from your gallery.
>> Download It.
9. Word Tiles: Hidden Word Search Game
Apart from eye-catching scenes, Word  Tiles has loads of challenging puzzles. However, it gives clues that will increase the fun. Word Tiles is easy to play. Thanks to this feature, it comes as a suitable game for players of all ages.
If you want free games like Wordrage, you can install this game on your phone. But you will have to watch several ads – before progressing to tougher levels.
>> Download It.
10. Word Yard – Fun with Words
Word Yard is a simple word game for puzzle lovers. In this game, you will have to discover a set of hidden words. Since it does not need Wi-Fi or data, you can play it at any time.
To encourage gameplay, the Word Yard does not have a timer. It also supports many languages and exciting daily challenges.
>> Download It.
11. Word Heaps – Swipe to Connect the Stack Word Games
Still looking for games like Wordrage? If yes, you can download Word Heaps from the Google Playstore.
With about 2000 levels, Word Heaps will push your spelling skills to the limit. If you discover new words, the game promises extra points. To get more rewards, you will have to watch some onboard videos.
Are you scared of wasting your data on games? Word Heaps works without an internet connection.
>> Download It.
Conclusion
These are some of the best wordrage alternatives we can find, please let us know in the comments section if you know another suitable game that should've made this list, we're always looking for feedback.
Read next: Top 10 Hidden Object Games For Android in 2020 // 10 Awesome Battle Royale Games Like Fortnite For Android // 11 Best Action-Adventure Games For Andriod in 2020