Normally, on mid-range phones and even moving up to some flagship devices, you shouldn't be able to record videos in 4K UHD mode, at least without Assistant from some apps.
Not the native camera app directly from the phone manufacturers.
This is the case with the Redmi Note 5 Pro, the highest you could record videos on the device is 1080p on 60fps but you could unlock 4K (30fps) recording via apps like the Open Camera.
I tried it, the videos were crisp and neat but would skip, make the phone hang and whatnot, I'm guessing that part of the phone was never meant to be accessed anyway, no wonder it's safely tucked away.
The Redmi Note 8 is an awesome mid-range phone
We even published an article about how beautiful it is (with pictures, even a video)
Not just because with it, you can record videos in 4K UHD mode live, without assistance from any other third-party app.
Asides other features, the device design is beautifully crafted with its quad-camera setup, it's also the first phone to have the 64MP camera sensor, this happened right before Xiaomi decided slap 108MP on its Mi note 10.
Whoops, those asides the Redmi note 8 also features the latest MIUI 11 with amazing features like dark mode scheduling, screenshot and then scroll to take the whole page, a built-in screen recorder and so on, features Android Central editor, Joe Maring, say we want to see in upcoming Android 11.
[amalinkspro type="showcase" asin="B07ZS1B6ZJ" apilink="https://www.amazon.com/dp/B07ZS1B6ZJ?tag=droidrant-20&linkCode=osi&th=1&psc=1″ new-window="true" addtocart="false" nofollow="true" sc-id="4″ imgs="LargeImage" link-imgs="false" specs="HSDPA 850 / 900 / 1900 / 2100 – LTE B1 (2100) B2 (1900 PCS) B3 (1800 +) B4 (1700/2100 AWS 1) B5 (850) B7 (2600) B8 (900) B12 (700 ac) B17 (700 bc) B20 (800 DD) B34 (TD 2000) – Hybrid Dual SIM (Nano-SIM, dual stand-by).~~~6.53 inches 1080 x 2340 pixels, 19.5:9 ratio (~395 ppi density), Corning Gorilla Glass 5, HDR – Fingerprint (rear-mounted)~~~128GB + 6GB RAM – microSD, up to 256 GB – MediaTek Helio G90T Octa-core – Non-removable Li-Po 4500 mAh battery – Android 9 Pie~~~Rear Camera: 64 MP, f/1.9 (wide) + 8 MP, f/2.2 (ultrawide) + 2 MP, f/2.4 (dedicated macro camera) + 2 MP, f/2.4 – Front Camera: 20 MP, f/2.0 – Video: [email protected]" btn-color="#ff9900″ btn-text="View on Amazon" alignment="alignnone" hide-prime="0″ hide-image="0″ hide-reviews="0″ hide-price="0″ hide-button="0″ width="750″]Xiaomi Redmi Note 8 Pro 128GB, 6GB RAM 6.53″ LTE GSM 64MP Factory Unlocked Smartphone – Global Model[/amalinkspro]
Why you need 4K UHD recording
We should get this out there first before we proceed much, your mid-range phone may not be able to record the quality of videos advanced cameras and Digital SLRs are capable of but it feels nice actually it is nice to know you have a phone that can record in 4K UHD mode.
This mode of recording increases the definition of your recordings by far, by a lot and you can actually see most elements on the video clearly.
However with missing features like stabilization, you may not be able to record proper videos on the move, your best bet would be a static one where your phone is rested on a tripod stand.
If you want to enjoy recording 4K videos on mobile with great qualities, flagships like the Galaxy Note 10 would deliver.
Recording Videos in 4K UHD mode on Redmi Note 8 Pro
While I am not entirely sure that 4K live mode is available directly on the base version of the Redmi Note 8, if that's the device you own, kindly follow the instructions below for the Pro version if you're able to access 4k recording.
If you want to activate 4k recording on your device, please consider the following steps:
Tap your camera icon to open your camera.
Swipe over to video mode.
Tap the menu bar on the top right side of the phone.
It enables a couple of options for display on your mobile phone, in the middle are the video recording mode. Options.
By default, you should have the 720p video recording at 60fps on.
Keep tapping till you arrive at the 4k UHD recording at 30fps mode (unfortunately no 60fps yet).
That so settles it, now you're ready to start recording.
For visual learners, once your camera is opened, and you've switched to video mode.
Tap this menu bar, the screenshot below to open video recording options.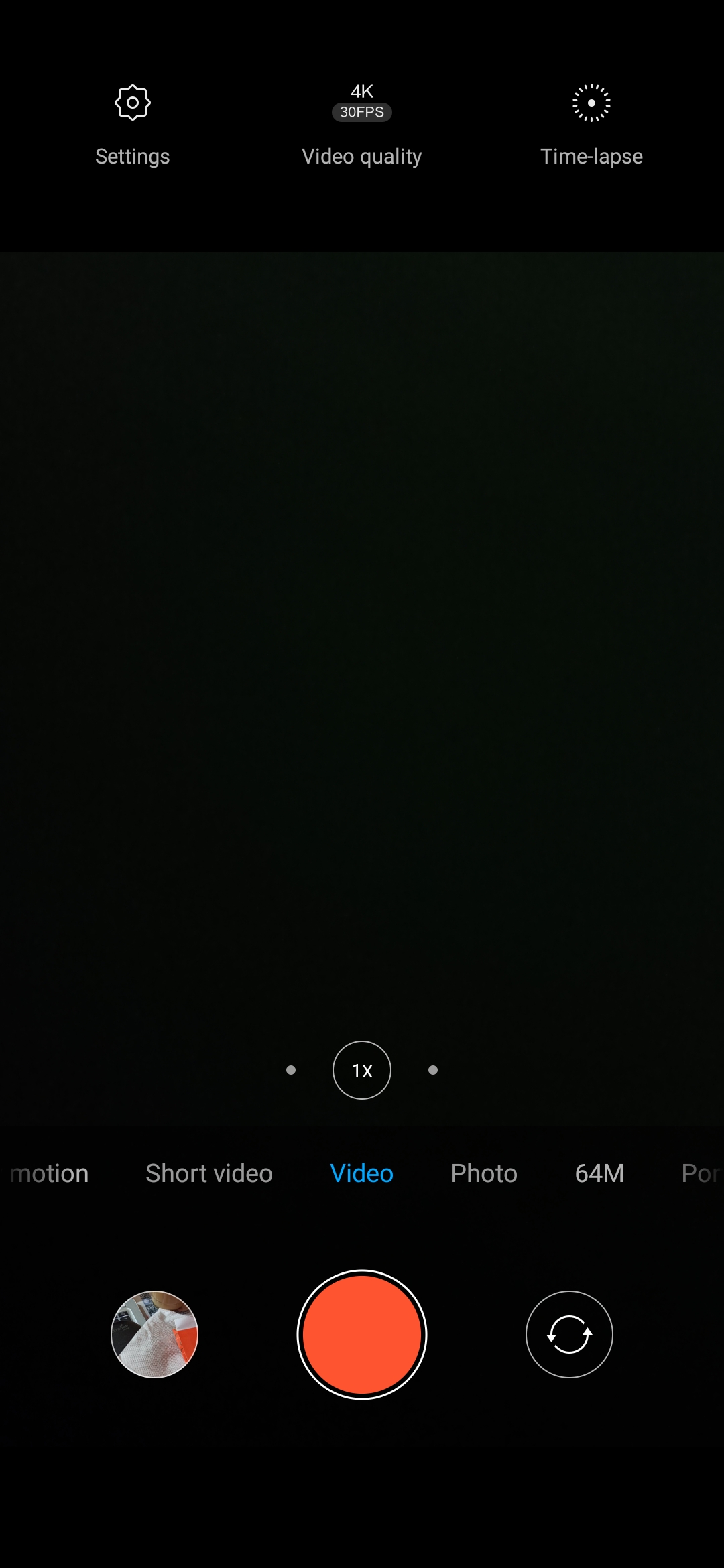 After that's being opened, keep tapping the video? recording mode till you arrive at the 4K mode like below and you're ready to go.
Things to know about recording 4K UHD videos with your phone
Call this wrapping up this tutorial, with this extensive list of you need to know, call them pros and cons if you will.
But here are a couple of things to note if you wish to record and always record 4K videos with your mobile phone.
Videos recorded will be very clear and crisp.
Videos recorded will be larger in size, way larger than videos recorded in other modes say 720p.
Videos can be seen just as they are on 4K supported devices, even on platforms like YouTube that is said to favor UHD videos, so +1 if you're a creator.
You may not be able to record for longer since 4K requires more storage space, the limit to one video you can record on even up to Android 10 is 4GB, on just estimates, not based on data or research, that could get you up to 4 minutes UHD video whereas 1080p or even the lower 720p could get you more timed recording.
This mode is demanding and could stretch your device's resources. Could heat up the phone or worse (not that much of a big deal ????).
Like us on Facebook to see more tutorials, leave a comment on Facebook if this has been helpful.
You may also let us know what you're hoping to read, we may just write it.
Buy Redmi Note 8 On Amazon
[amalinkspro type="showcase" asin="B07ZS1B6ZJ" apilink="https://www.amazon.com/dp/B07ZS1B6ZJ?tag=droidrant-20&linkCode=osi&th=1&psc=1″ new-window="true" addtocart="false" nofollow="true" sc-id="4″ imgs="LargeImage" link-imgs="false" specs="HSDPA 850 / 900 / 1900 / 2100 – LTE B1 (2100) B2 (1900 PCS) B3 (1800 +) B4 (1700/2100 AWS 1) B5 (850) B7 (2600) B8 (900) B12 (700 ac) B17 (700 bc) B20 (800 DD) B34 (TD 2000) – Hybrid Dual SIM (Nano-SIM, dual stand-by).~~~6.53 inches 1080 x 2340 pixels, 19.5:9 ratio (~395 ppi density), Corning Gorilla Glass 5, HDR – Fingerprint (rear-mounted)~~~128GB + 6GB RAM – microSD, up to 256 GB – MediaTek Helio G90T Octa-core – Non-removable Li-Po 4500 mAh battery – Android 9 Pie~~~Rear Camera: 64 MP, f/1.9 (wide) + 8 MP, f/2.2 (ultrawide) + 2 MP, f/2.4 (dedicated macro camera) + 2 MP, f/2.4 – Front Camera: 20 MP, f/2.0 – Video: [email protected]" btn-color="#ff9900″ btn-text="View on Amazon" alignment="alignnone" hide-prime="0″ hide-image="0″ hide-reviews="0″ hide-price="0″ hide-button="0″ width="750″]Xiaomi Redmi Note 8 Pro 128GB, 6GB RAM 6.53″ LTE GSM 64MP Factory Unlocked Smartphone – Global Model[/amalinkspro]