If for some reason or two you wish to hide apps on your Xiaomi or Redmi even Pocophone running any version of MIUI, even the latest, this short guide is for you.
Here in the country, hiding apps is a norm, from keeping privacy invaders away from reaching the most intimate information on your device to simply not wanting anyone to know there's an app installed on your phone.
The main thing? Only you can see and access those apps anytime you want, here's how to get started on your Xiaomi Redmi phone, I will be demonstrating how to carry out this exact process with my Redmi Note 8 pro device.
[amalinkspro type="showcase" asin="B07YQ58NPF" apilink="https://www.amazon.com/dp/B07YQ58NPF?tag=droidrant-20&linkCode=osi&th=1&psc=1″ new-window="true" addtocart="false" nofollow="true" sc-id="4″ imgs="LargeImage" link-imgs="false" specs="6.53 inches 1080 x 2340 pixels, 19.5:9 ratio (~395 ppi density), Corning Gorilla Glass 5, HDR – Fingerprint (rear-mounted)~~~128GB + 6GB RAM – microSD, up to 256 GB – MediaTek Helio G90T Octa-core – Non-removable Li-Po 4500 mAh battery – Android 9 Pie~~~Rear Camera: 64 MP, f/1.9 (wide) + 8 MP, f/2.2 (ultrawide) + 2 MP, f/2.4 (dedicated macro camera) + 2 MP, f/2.4 – Front Camera: 20 MP, f/2.0 – Video: [email protected]~~~Unlocked cellphones are compatible with most of the GSM carriers ( Like T-Mobile or AT&T ) but please be aware that are not compatible with CDMA carriers ( Like Sprint or Verizon Wireless for example ) – FCC ID: 2AFZZG7G" btn-color="#ff9900″ btn-text="View on Amazon" alignment="alignnone" hide-prime="0″ hide-image="0″ hide-reviews="0″ hide-price="1″ hide-button="0″ width="750″]Xiaomi Redmi Note 8 Pro 128GB, 6GB RAM 6.53″ LTE GSM 64MP Smartphone – Global Model (Mineral Grey)[/amalinkspro]
Let's get started with these four simple steps:
1. Go to Settings on your phone
That gear ⚙️ icon on your phone and scroll down to Apps.
When you click on apps, you get multiple Apps setting options like System app settings, manage apps, dual apps and so on, the option you're looking for to hide apps on your MIUI based devices is App Lock.
Now I understand your skepticism, app locking, and hiding apps aren't exactly the same thing. App lock makes it visible but inaccessible to the public, the hidden apps make it all go away somewhere only you know how to access.
So tap App lock first and set up a (security system) simple pattern you can remember later.
2. Setup pattern and backup security option
After setting up your pattern, you can either use face unlock (if your phone has the security option) or your fingerprint as a backup option to access your hidden apps in case you forget your pattern.
Set that up too and click on Hidden apps, there you'll see the list of all the apps you have installed on your phones with the option to flick on the hide apps protocol.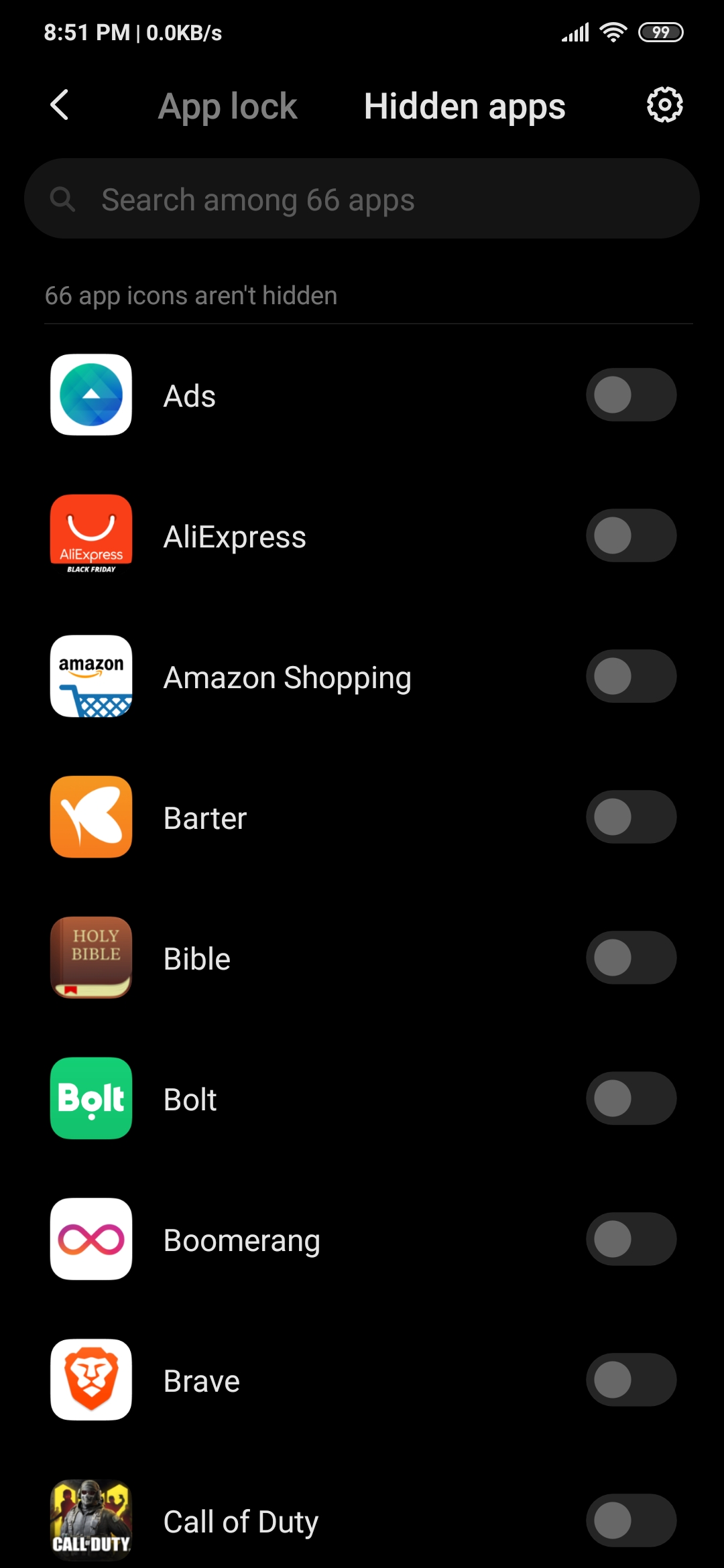 Go ahead and flick your choices and you're all set.
At this time, you'll have noticed the apps you hid are long gone, you can only access them by placing two fingers on your screen and dragging them apart.
Sort of like pinching, then it will reveal the hidden apps but first, you must draw up your security pattern or provide the necessary credentials you submitted as security back up and that's about it.
4. You're all set
Now you can adjust or even hide more apps from the settings area anytime you wish, just repeat the steps above and you're good to go.
All clear? Awesome, use the comments form below if you have any questions, Like DroidRant on Facebook to see more tutorials like this one, Wanna learn how to create custom WhatsApp stickers? This guide is for you.