If you're looking for the best free video chat apps for your Android device, you've come to the right place, not only will you discover new apps you can instantly download on the Google PlayStore and start using without paying a single cent, you may also be discovering that some of your favorite apps have the video chat feature all along without noticing it.
These video chat apps great for your Android device but it extends beyond that, services like Skype, Zoom, and even Google duo can also basically be used anywhere, even on your Windows computer.
So now you don't even need to have a computer close by to catch up with your friends and family, these video chat apps will help you stay in touch with your associates even from work, and now that the Coronavirus has forced most countries to go into lockdown, these chat apps are more relevant than ever now.
10 best video chat apps for android
Technology keeps advancing, while on lockdown, you could play advanced online multiplayer games like Pubg with friends, or simply check-in, for that, you need one or two of the best video call apps list we've compiled below for you.
WhatsApp is one of the most popular chat apps available for android and other smartphone operating systems. It is rated as one of the best chatting apps of all time.
In Africa, it is the best or preferred chatting app. With the recent features including a dark mood, it gives you a delightful opportunity to message and call your friends and family. It has a voice call and video feature (that supports up to 8 people at a time), and you don't have to pay for every message or call. All you need is a good internet connection and you are ready for a good facetime.
The world economy is unstable, businesses are on lockdown, and work is presently on hold in most parts of the world. If your company or workplace is on total lockdown, then this is the perfect opportunity to use "Skype for business".
The mobile business app called Skype allows you to facetime with your business partners and coworkers with ease. It has an easy-to-use interface, voice, and video over wireless. Formerly called Lync as of 2013, Skype is available on the Playstore for use.
This app is smaller in size, consumes less data, simpler and faster than ever before. Just like the WhatsApp messenger, it comes with features to send texts, voice messages or calls and video calls with friends and family quickly and easily. This feature is supported by all form of Android phones.
Imo can also start an international video conferencing which doesn't take extra charges. The Imo live streaming is available for you and your nearby friends. Now is the time to get in touch with everyone; even your friends and family are at home waiting for your call. Don't say we didn't tell you.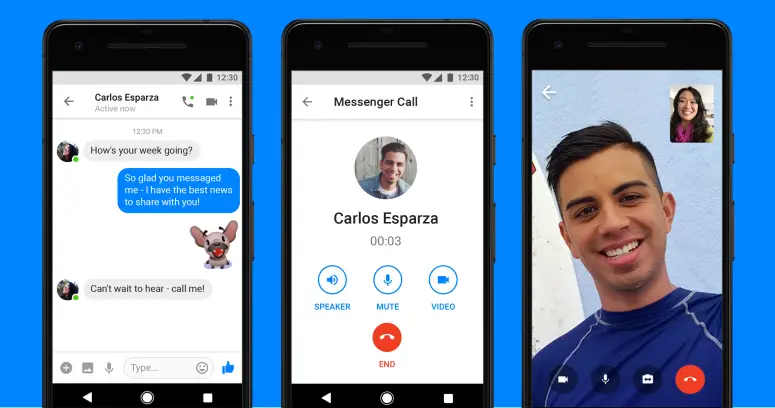 Facebook is one of the most popular apps out there today – it is what you use daily. Yes! It is the number one most used app in the world.
You necessarily don't have to spend all day at home, sleeping, eating and watching movies; you can also do group video chats, video calls, voice calls, and text messaging. Oh no! Don't be a boring human; make it a point of duty to keep your family and friends connected with unlimited live video chatting – like facetime.
Don't complain when you can reach out to your fleets of people through the Viber messenger? You can enjoy the most secure messaging, video chat and free calls around the globe. Viber allows you to catch up with friends, family and coworkers by opening a video call and group chat (for up to 250 members).
One of the distinctive features of this app is making low-cost calls to landlines with Viber out, though that part doesn't involve face time. Sorry, but Viber makes up for that by being completely free for over 1 billion users worldwide.
This app can connect up to 100 people with video conferencing, online meetings and group messaging all in one. When it comes to customer satisfaction, Zoom is the first and also used by over 500,000 customer organizations.
Recently, it was recorded that zoom is the best app to do face-to-face teaching for online courses. The HD meeting app is one of the few features you can use in connecting your friends and family (over 100 people) by clicking "Host a meeting".
Are you tired of chatting and texting? Then read what this app has to offer you. This is not a messaging app or chatting site like the others listed above, it is mainly meant for voice and video calling. So, what does it have? It brings together all the people who matter most, even when you are far apart, with group calling.
The Duo app supports up to 8 people in a group video call with access to make calls between Android and iOS. Google Duo now has a low light mood to improve video call visibility in poor lighting conditions. Get the app on Playstore now and enjoy the best video chat.
If you are 1000 or 10,000 miles away, you can always join the tango live video community. You can become a fulltime broadcaster, engage with fans live, disseminate COVID-19 awareness information and even earn substantial cash from doing what you like most on Tango live.
This is an opportunity for you to learn something new; a new dance step, a new cooking recipe, showcase your new track or even share love with your friends and family. All you need do is go LIVE and follow your favorite broadcasters and chat directly. Tango is an interactive live-streaming platform for instant communication and new friends.
Sometimes, hangout doesn't always require you to come together physically and have fun, you can live chat them anytime on Google hangouts, even if they are offline. You can use hangouts to start free video or voice calls and converse with one person or a group. It includes all your contacts with group chats for up to 150 people.
You can encourage your friends and family to download the app and call them for free, whilst you can also call any phone number in the world without extra charges. Make the best out of the time by turning any conversation into a free group video call with up to 10 contacts.
Connect with more than a billion people around the world using the WeChat. This app offers more than social media messaging – you can also facetime with companies, connect with family and well-wishers, do an interview and also enjoy mobile payment features with WeChat pay.
WeChat has a high-quality audio-video call to anywhere in the world. 9 people can be connected in a group video call. Don't let isolation make you feel like you can't enjoy the best of your time; share your favorite moments and glimpse of the day.
You don't need to sit at home waddling in boredom and giving excuses to your friends. Get on the Android Playstore and download apps that enable you to facetime with your friends and family. Learn new ideas, grow your business and make new friends with the best video chat apps.
Bored in quarantine? Check what people are reading: